LipoTherapeia Introduces The Freeze Protocol to Fight Office Work-Related Body Shape Decline and Cellulite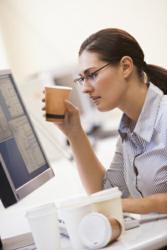 London, UK (PRWEB) May 31, 2013
Office work distorts body shape by encouraging cellulite creation, skin looseness, water retention and local fat accumulation, so it can be safely said that technology causes cellulite. However, technology, along with some simple lifestyle measures, can also fight cellulite and body shape decline. The Freeze Protocol, developed by LipoTherapeia, the London-based cellulite clinic, aims to help freeze or reverse the negative effects of office work on the skin and help women maintain a firm and youthful body.
For the majority of office workers, work today is almost totally sedentary, most of the time involving just finger movement in front of the computer, while at the same time there is plenty of opportunity for the consumption of calorific snacks, with the abundance of vending machines in offices typically dispensing crisps, fizzy drinks and chocolate bars.
Lack of movement has a direct effect on skin firmness, as the body needs mechanical stimulation to keep collagen production and collagen cell population high. Without mechanical stimulation skin gradually becomes loose. Furthermore, inactivity in combination with sugar and fat-rich foods, causes weight gain, water retention, low grade inflammation and glycation (collagen protein damage by sugar). The addition of after work drinks, either social or to entertain clients adds to the problem, by overburdening the liver.
Cellulite is defined as