Hallmark Makes It Simple to Make It Personal for Mom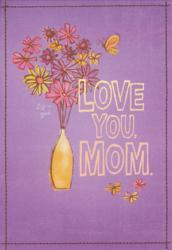 Kansas City, MO (PRWEB) May 02, 2013
This Mothers Day, Hallmark introduces new cards and gifts that make it easier than ever to celebrate Mom in a personal and meaningful way.
We know from our research that moms want Mother's Day to be meaningful for them and for their families, said Dan Woodall, product manager at Hallmark. Personal touches within cards or gifts, such as a child's handprint or a photograph, help make Mom feel loved and appreciated.
With more than 1,300 Mother's Day cards and a wide variety of customizable gifts, Hallmark makes it simple to make it personal for Mom or Grandma.
2013 Mother's Day Cards & Gifts
Hallmark Signature Collection

http://www.hallmark.com/card-collections/

This greeting card collection features 72 sophisticated, stylish designs with simple messages. Each card is handcrafted with beautiful papers, rich textures and sophisticated embellishments. Choose a design and sentiment that fits Mom's personality or current stage in life, like the "Mommys Own Sippy Cup" card featuring a tropical adult beverage and a detachable wine charm for Mom to keep. Available at Hallmark Gold Crown