Everest Group and Cloud Connect's Innovation through Cloud in Enterprise Awards to Honor Companies with Transformative Cloud Strategies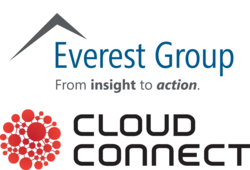 San Francisco and Dallas (PRWEB) June 27, 2013
Companies with documented success in cloud computing deployments are being nominated for the first-annual Innovation through Cloud in Enterprise (ICE) Awards, produced by Cloud Connect and Everest Group and taking place at Cloud Connect, held October 21-23 in Chicago.
For more information or to submit a nomination, visit: http://www.everestgrp.com/news-events/ice-awards-program/.
The ICE Awards will recognize companies with demonstrated success in leveraging cloud computing to do more than reduce costs. Winners will have transformed business processes and unlocked new value by successfully implementing cloud strategies.
The awards are produced through a collaboration between Cloud Connect and Everest Group. Everest Group is an an advisory and research firm on global services and business transformation through cloud computing. Cloud Connect is a global cloud computing conference and exhibition focused on implementation use cases with annual events in Silicon Valley, Chicago, Mumbai and Shanghai.
The ICE Awards will select winners across a range of industry sectors, including consumer goods and retail, financial services, healthcare and media and entertainment. Additionally, a Viewers Choice award winner will be selected from among conference attendees via social media at the event in Chicago.
Award Criteria
Qualifying organizations must have at least 2,500 employees with operations in North America or Europe that are consumers of cloud services. Service providers and vendors are encouraged to apply on behalf of their clients and customers. The cloud solution should have resulted in one or more of the following: