CreditCardApplications.com New Infographic Shows Pros and Cons at a Glance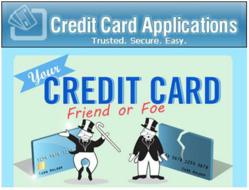 (PRWEB) April 27, 2013
CreditCardApplications.com, has just created an InfoGraphic that helps consumers visualize the pros and cons of credit card ownership at a glance.
As the friendly and helpful site that cares about matching consumers to their best credit card deals, CreditCardApplications.com spotted the opportunity to empower consumers by helping to simplify the complex. In the world of competing credit card offers consumers can be bewildered by the jungle of credit card rates, terms and features.
So CreditCardApplications.com did something about it by creating this Infographic: Your Credit Card: Friend or Foe?
So whats the answer? The bottom line is this:
Credit cards are a double-edged sword: A useful tool, when used wisely.
Consumers need to understand the costs, benefits and trade-offs associated with credit card ownership. With that as a foundation, they can make an educated decision about the types of credit card offers that will be most useful for their individual needs.
The CreditCardApplications.com InfoGraphic helps consumers understand the big picture at a glance. Its just another way that they help consumers find their best credit card application online, quickly and easily.
About CreditCardApplications.com

Back in the 1970s, CreditCardApplications.com launched a service that enabled consumers to fill out a single paper application form and indicated the card they were interested in. The form was returned by mail, and the service then applied for multiple credit cards of their choice automatically.
Now-a-days they provide online tools that make it easy to find, compare and apply for their best credit card offers FAST.
Interested in the Rate? Fees? Rewards programs? Credit Rating? They provide the consumers with the online tools to find credit card they need.
After all this time, one thing hasnt changed – They care about the consumer.
To learn more visit http://www.creditcardapplications.com/ or follow them on Facebook, Twitter or Google +.