Commercial Real Estate Finance Company, Clopton Capital, Nominated for Better Business Bureau's Prestigious 2014 Torch Award for Marketplace Ethics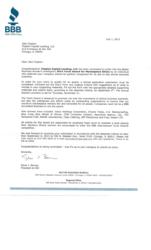 Chicago, IL (PRWEB) July 11, 2013
Clopton Capital has been nominated for the Better Business Bureau's prestigious Torch Award for Marketplace Ethics for 2014. The company was nominated for its day-to-day ethical business practices by unrelated parties that thought the company to be deserving of the award.
As described by the Better Business Bureau, "The Torch Award is designed to promote not only the importance of ethical business practices, but also the willingness and efforts made by outstanding organizations to ensure that our country's marketplace remains fair and honorable for all people."
According to the BBB, previous winners of the Torch Award include: Sears Holding Corporation, Empire Today, U.S. Waterproofing, Blue Cross Blue Shield of Illinois, CDW Computer Centers, Assurance Agency, Ltd., The Pampered Chef, Abbott Laboratories, Tasty Catering, ABT Electronics and Cray, Kaiser LTD.
Clopton Capital is a nationwide commercial real estate finance company that offers and arranges loans for commercial properties nationwide. The company works with individual owners and real estate companies that own income producing properties. The funding for the loans arranged by the company comes from CMBS markets, insurance companies, private companies, and depositories.
Find More Computer Press Releases