Chatwing Dev Team Discusses the Importance of Linked Chatrooms to Various Website Owners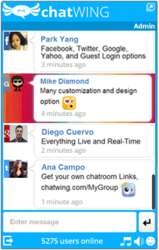 Cambridge, MA (PRWEB) June 15, 2013
With the launch of Chatwings chat network feature, many visitors have started seeing the potential of the chatroom. To highlight this potential even more, Chatwings developers reached out to website owners and explained the sheer importance of interconnected chatrooms. According to Chatwings developers, these linked chatrooms will speed up the way people connect with each other.
Better web exposure is the first point highlighted by Chatwings developers. Once chatrooms are linked, web users can gain information at a simultaneous rate. This is useful in active niches, such as technology and global current events. In technology sites alone, chatroom linking can help web users gain important information. It can be about tech tutorials, gadget tutorials, gadget reviewsbasically anything. This is why we are considering adding up a technology chat network. Other niches can ultimately benefit from the chat network, says Mike Diamonda core developer for Chatwing.com.
Online visibility is also discussed in several Chatwing chatrooms. Based on the test runs of the developers, the chat network feature can increase the online traffic rate of a website if its chatroom is linked to others. The effects can also be magnified if the website owner utilizes the importance of social media in the chat app. Currently, there are four social media login options: Facebook, Twitter, Google, and Yahoo. Website owners can rely on these sectors to market their sites well.
The Chatwing chat apps team is planning to conduct more online talks to communities in just weeks and months. They are also planning to hold short webinars about the importance of effective website chat. The developers also believe that all online marketing professionals can rely on the global connectivity ensured by the Chatwing chat software network option.
About Chatwing.com
Chatwing.com specializes in the new field of website chat. Over years, the Chatwing team has introduced live chat widget for hundreds and thousands of blogs. The Chatwing application bridges people from many parts of the world, creating global synergy through the Internet. The shout box can be installed in just seconds, and it can be used for varying purposes such as leisure and Internet marketing. It also allows a user to customize the size, color, and name of the widget.