CFS Marketing Manager, Bill Bryan, Celebrates Epic One-year Anniversary with Atlanta, GA Company Amidst Expansion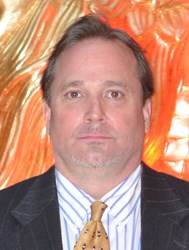 Atlanta, GA (PRWEB) June 14, 2013
Suwanee, GA based CFS Flooring, Inc. continues to grow as the overall economy improves. Marketing Manager Bill Bryan forecasts sustained company growth as he celebrates his epic one-year anniversary with the company.
An Atlanta native, Bryan is a marketing veteran with twenty-seven years of experience. A Georgia Tech Industrial Management undergraduate and Georgia State Masters in Real Estate graduate, Bryan has enjoyed a variety of career experiences. After leaving the Federal Savings Bank as its V.P. of Development, Bryan became the youngest V.P. (at time of promotion) at Turner Broadcasting/Turner Properties as its V.P of Global Real Estate and Qualifying Broker. After leaving Turner to develop several residential neighborhoods Bryan founded N Fin S Holdings, llc a real and intellectual property-development company. Bryan also rocks-out with his band under the stage name Bryan Epic.
Bryan was instrumental in opening the historically significant CNN bureaus in East Berlin, Germany and in Beijing, China. He was Ted Turners exclusive real estate broker during which time Turner became the largest individual private landowner in the U.S.
While Ive worked for the largest company in the world (at the time GM) and the smallest, completing transactions on six continents, I really enjoy applying my skill set to enhance the market position of CFS and Im grateful for the opportunity to be part of this successful operation.
CFS Corporation is a national wholesale distributor of hard surface flooring with offices in Georgia, California and China and distribution throughout the U.S. and in select Canada markets. CFS offers pre-finished hardwood, engineered, cork and bamboo flooring and laminate flooring. For more information about CFS visit their website at http://www.cfscorporate.com or call them at 866-751-6893.
Related Tech Press Releases