Celebrated Illustrator, Figurine Innovator, Thomas Blackshear, to Receive 2013 Distinguished Alumnus Award from the American Academy of Art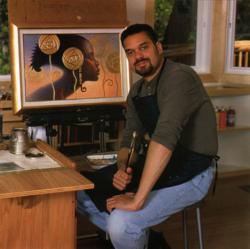 Chicago, IL (PRWEB) May 08, 2013
Award pays tribute to Blackshears 35-year career creating illustrations, paintings, postage stamps and best-selling collector items.
The prestigious American Academy of Art has named 1977 graduate Thomas Blackshear former commercial illustrator, and prolific and celebrated artist of postage stamps, figurines, paintings, collectable plates and much more the 2013 recipient of its Distinguished Alumnus Award.
Blackshear, most recognized for developing the first, best-selling line of figurines for the African-American market, Ebony Visions will accept his award and speak to this years graduating class at the Academys graduation ceremony, happening from 3 to 4:30 p.m. on Friday, May 10, 2013, at the Chicago Downtown Marriott, 540 North Michigan Avenue, Chicago, Ill. 60611.
Thomas has built a fantastic name and success for himself by pursuing his own, unique vision, said Richard Otto, the Academys president. Were thrilled to give him our most important award.
Receiving this significant recognition is a huge compliment, explained Blackshear. The Academy has been a key component of my success. And its a real honor to share this award with the talented, past winners who came before me and whose work inspires me.
Prolific Artist

Blackshears resume includes having worked for Hallmark Cards, Inc. out of college and later went on to become head illustrator for Godbold/Richter Studios. He consistently worked as an illustrator for 14 years creating work for Anheuser-Busch, Lucas Films, Universal Studios, Greenwich Workshop (limited-edition prints) and many other companies.
U.S. Postage Stamps:

Blackshear has also illustrated nearly 30 postage stamps for the U.S. Postal Service. I enjoy being able to do something most people see and that honors someone else, Blackshear commented. Stamps are the only form of illustration that I consistently still do since focusing on paintings and collectables.
Collectable Plates:

Blackshear entered the collectible world in the late 80s when the Hamilton Collection commissioned him to create four series of limited-edition collector plates beginning with the highly successful, original Star Wars series. He also created the first Wizard of Oz portrait plates and the first Star Trek plates. Blackshear says he has nearly 30 collector plates to his credit.
Figurines the Defining Moment:

Willitts Designs International (a subsidiary of the Lenox Group Inc.) approached Blackshear in 1994 to create a line of black-themed collectables. Blackshear pressed the company to consider his own concepts for an elegant line of unique images instead of creating designs that fit a safer idea of what had been made prior. The company first refused, then agreed to take the chance.
When Blackshears self-titled Ebony Visions line came out, it changed the collectables industry by changing the perception of what this type of artwork could look like. It also became Willitts Designs Internationals bestseller within months and made Willitts its first $ 1 million, according to Blackshear. Ebony Visions, which Blackshear terms "Afro-Nouveau, has been the number-one best seller for black figurines for the last 19 years and approximately 200 of his figurines have been produced, Blackshear explained.
President Obama, Pope John Paul

Blackshear has also created a portrait of Pope John Paul II that was included in the one-man exhibition he was invited to have at the Vatican in 2006. That piece and his entire show was viewed and well received by bishops and dignitaries from throughout the word. A week before the presidential election in 2012, Blackshear completed a portrait of President Obama. Prior, he had created a figurine of the president.
Blackshears Experience at the Academy

The Academy is one of the few places I truly learned, besides the amazing experience of working as an apprentice to my former instructor Mark English, Blackshear explained. The Academy exposed me to materials I didnt know about, introduced me to new styles of composition and gave me my essential, foundational learning. I was taught to experiment, explore and strive beyond the norm. That school helped me to think outside of the box.
Blackshears Five Tips for Success for Academy Graduates/Artists:

1.