Adding a Modern Spin to a Classic Story: Architectural Design Firm Re-launches Its Website with the Help of INM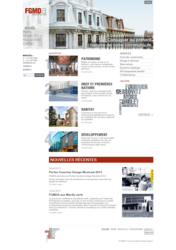 Montreal, Quebec (PRWEB) May 06, 2013
Founded in 1996, FGMDA has earned a national reputation for the quality and relevance of its design and the competence of its architects and management professionals. The firms in-house team and external consultants possess deep expertise in the areas of heritage design, Inuit and first nations community development, and the development of homes, city blocks and districts. Together, they provide a wide range of services to clients, including new construction, restoration, interior design, building assessment and sustainable design.
While the firms many successfully completed projects are testament to the firms vast experience, creativity and technical ability, its website was not. Outdated and difficult to manage, the firm contacted INM for a much-needed and long overdue face-lift.
The goal of the website redesign was three-fold: 1) Introduce a slick, new look and feel that better reflects the firms values and design capabilities; 2) make it easier for clients and prospects to find the information they need; and 3) make it easier for the FGMDAs employees to update the website with new content.
INM worked with local graphic design firm, Bertuch, to design and develop the new website. Located at http://www.fgmda.com, the site features stunning graphics and photos on every page, and a highly engaging gallery that showcases FGMDAs projects. Moreover, the websites improved navigational structure and project gallery enables visitors to find information and project samples more quickly and easily than before.
Built on the WordPress platform, the websites drag and drop content management system enables the firms employees to easily upload new photos, modify existing content, create new web pages, and publish content simultaneously in multiple languages without requiring any HTL or programming skills.
FGMDAs new website showcases our firms vast expertise and project successes,

while delivering a greatly enhanced user experience for clients and employees

alike, said Georges Drolet, Partner at FGMDA. I am very pleased that INM has

helped us to architect the website redesign.
About FGMDA

Fournier Gersovitz Moss Drolet et Associ