Vantage LED, US Manufacturer Of Innovative LED Displays, Launches An Interactive Website Featuring A New Product Series And A University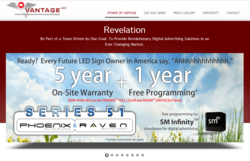 Corona, CA (PRWEB) May 01, 2013
About this time last year, Vantage LED embarked on a journey to declare themselves as a major player in the led sign industry. Upon rebranding their logo and product line, they reached out to their loyal dealer partners with new options requesting feedback on what they needed to grow and strengthen their partnerships; a Rediscovery. This lead to creating a host of tools and resources, such as co-branded materials and an online resource blog, that supported a dealers identity as well as growth in their business; it give them Power. Now, Vantage LED, confident in their hardware, software, and people, launched an interactive website featuring a new product line called Series 51 and a university. Today, the led sign industry will have no choice but to take notice of Vantage LED; a Revelation.
The industry has become content and stagnant; states Paul Martin, Director of Marketing at Vantage LED. Weve witnessed it and heard this over and over from our dealer partners. Were working hard and moving forward. Were having fun creating revolutionary solutions and always thinking Whats next? What makes our Dealer Partners lives easier, but more importantly, what makes an LED sign owner more excited about his display doing what its meant to do; grow his business!
Vantage LED has definitely made the lives their Dealer Partners easy with the launch of their new product line called Series 51. Available on their full color and grayscale LED displays, this series offers a complete comprehensive 5yr parts and on-site service warranty, plus 1yr free programming through the revolutionary cloud-based service: SM Infinity.
This is the best way to introduce LED signs to apprehensive market being overwhelmed by multiple oversea manufacturers. adds Martin. The owner can rest easy about the display's operation and get dynamic custom content for his business with the SM Infinity Content Creation Service.
This cloud-based service also features an iPad app, automated diagnostic reporting, content requests via voice command, and the all new conditional smart scheduling, where the LED display will trigger messages upon certain conditions. If its cold outside, the display will feature jackets for sale. Too hot? It will feature cold drinks inside. Now, thats smart.
Another amazing release with the new website launch is Vantage University. Exclusive to the Vantage LEDs dealer partners, Vantage University features Video Classes to help with Sales, Marketing, Project Management and Technical Support and a Resource Library full of Whitepapers, Self-Help Guides & Manuals, Strength and Project pieces.
The industry is rife with advertorials and misinformation; states Deacon Wardlow, LED Technology Specialist at Vantage LED, It's gotten to the point where manufacturers are vendors and not partners; sources, not resources. Vantage LED believes in partnership and education and Vantage University is the resource PMs, sales, techs and the industry have been looking for.
Vantage LED firmly believes it is their duty to educate and support their dealer partners in this industry keeping them a step ahead of their competition.
Deacon continued, This is only the beginning of what Vantage University will bring to our dealer partners. They will really see what it means to take the lead with Digital Signage.
Vantage LED is truly excited about this industry and what it has to offer their loyal and new dealer partners as well as future LED sign owners everywhere. They invite you to visit their new website and their facilities in beautiful Corona, CA. They promise never an ordinary experience.