Limited Edition Beats Shred Headphones are a Must-Have Accessory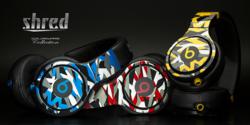 Winona, Minnesota (PRWEB) May 22, 2013
Recognized for their excellence in customizing high-end electronics, ColorWare unveils the new ColorWare Collection Beats Shred headphones. The Shred headphones are a limited edition series with only 50 of each color. There are three colors available on the Beats Pro headphones including: Techno (blue), Candy Apple (red), and Stardust (yellow). They are only offering the black leather version of the Beats Pro headphones.
Justin Cisewski, CEO stated, The Beats Pro headphones are one of our best-selling headphones. And, because our customers are ahead of the style game, we wanted to create a modern, edgy design. The Shred pattern is unique to each set of headphones; no two styles are alike. We apply a series of stencils and hand-spray each pair of headphones with our elite custom paint finish.
Each set of headphones is engraved with ColorWare Collection and comes with an embroidered, Ultrasuede travel bag. There are only 50 pairs per color for a total of 150 unique headphones. Each style is $ 1200 and ships in about 7-10 days.
For this collection, ColorWare is hosting a product give away. Visit http://www.facebook.com/ColorWare?ref=hl, like our page and enter the ColorWare contest to win. ColorWare is giving away one of each color. To win, you must gain the most referrals to the ColorWare campaign. The top three people with the most referrals are chosen for the prize. Please check the official rules for more information.
About ColorWare
ColorWare was founded on the idea that electronic devices could be more appealing than the standard colors offered by the original manufacturer. ColorWare products are creative and fashionable, giving their customers something unique.
ColorWare is the only company in the world where you can create your own bespoke electronic device. The range of products spans from headphones to computers, tablets, phones, and gaming consoles.
For more information please visit http://www.colorware.com.
Media contact: Nicole Czarnomski

nicole(at)colorware(dot)com

507-205-4118