Head of The Covenant School Extends Contract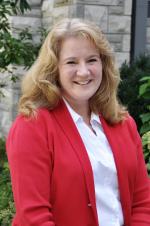 Nashville, TN (PRWEB) May 22, 2013
Dr. Catherine Graham has chosen to renew her contract with The Covenant School and continue in her current role as Head of School. This decision clearly demonstrates her unwavering commitment to supporting Covenant School students in their academic efforts and the schools overall mission to provide children with an outstanding academic experience founded on the Word of God.
After an impressive career at all levels of education, including teaching at The Covenant School, Dr. Graham began serving as Interim Head of School in 2010. After a national search she was hired as permanent Head of School in 2011. During her short tenure at The Covenant School, Dr. Graham successfully implemented new curriculum for reading, social studies, Spanish, science and the Jr. Kindergarten OWL literacy program. She also spearheaded the development of Quest Learning Services, a program designed to meet the needs of high achievers and those requiring academic support. The Fine Arts Enrichment Academy (FAEA) was also launched under Dr. Grahams leadership. The FAEA is an after school arts program for students interested in music, fine arts, dance and drama.
The Covenant School has been blessed to have Dr. Graham serve as our Head of School for the past three years and we look forward to her steady, energetic leadership for years to come, said Chip Campbell, Chairman of the Board of Trustees. Using her experience as a former college professor and administrator, she has continued the schools emphasis on high academic standards in an unapologetically Christian environment. We are excited to see all the ways in which Dr. Graham will continue to lead and grow our wonderful school.
Over the last two years, Dr. Graham has emphasized the use of technology and invested in hardware and software that will enhance both the learning and teaching experiences. During her leadership the school has acquired and implemented several innovative teaching tools, including: document cameras, computer projectors, smart boards, iPads, eReaders, library software, educational software and online learning subscriptions.
Additionally, Dr. Graham established a middle-school model for instruction in fifth and sixth grades, preparing Covenant School graduates for future school experiences. This year Covenant graduates were accepted into a diverse range of independent schools including: Montgomery Bell Academy, Harpeth Hall, Brentwood Academy, Ensworth, Franklin Road Academy and Christ Presbyterian Academy.
About The Covenant School

The Covenant School is a private,independent elementary Christian school located in Nashville, Tenn., serving girls and boys in preschool through sixth grade. The tuition for the 2013 2014 school year is $ 10,500 for Kindergarten through sixth grade, $ 6,800 for the five day Jr. Kindergarten program and $ 3,700 for the three day program.