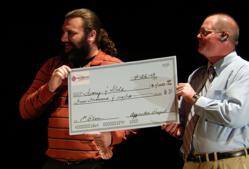 Denver, Colorado (PRWEB) May 01, 2013
Three movie-making teams from the prestigious Colorado Film School were awarded $ 8,000 in game-based and immersive learning grant funding April 26, allowing them to make short films that will be ultimately used to pitch full-length features to potential investors.
The monetary outlay comes after the culmination of a three-month, interdisciplinary exercise at CCA, an Aurora and Denver community college, that involved numerous departments and tackled not only the creative aspects of filmmaking but also the business side.
Production teams pitched their ideas to Denver-area business leaders twice during the month of April in hopes of securing funding that was supplied by the Colorado Community College System.
Accounting, marketing, computer information systems, business communications, and graphic design classes backed the creative efforts, ensuring that the filmmakers had sales forecasts, developed realistic budgets, identified demographics, invented market strategies, and applied visual elements that reinforced each projects real-world viability.
Theres going to be a time when these kids are going to go out there trying to get something made, and maybe it wont be with the studios but with an investor, trying to put together a presentation that will attract attention, said Donald Zuckerman, commissioner of the Colorado Office of Film, Television and Media, who was on hand for the final round of judging.
Getting practice with the pitch process at Community College of Aurora, I think its a great idea, Zuckerman added. And I dont know if anybodys done this before. This could be a first of its kind.
Local business leaders including Duane Reed, CEO of CEOFocus Denver; Tery Larrew, of Caddis Capital; Sam C. Searcy of DCMI Data Communications; Larry Baird, principal of blufrog studios; and Diana Whye, director of CCAs Foundation graded each of seven projects on a wide variety of criteria including story, presentation and long-range viability.
The winner of the first prize of $ 4,000 to make a sizzle reel, ostensibly is a short trailer encapsulating the movie, was the project Ivory and Gold. The theme of the movie is about the crippling effects of regret, and the realization that our past choices do not have to dictate our future. The Fates who have motives of their own, grant a college professor an opportunity to correct his perceived miscues.
Spanish and Gold ($ 2,500) by John McSween was the runner-up, followed by Tachyon ($ 1,500) by Blake Talley.
Benjamin Erbach, director/writer/producer for the winning entry, said that finishing first in the competition gives his team one less thing to worry about and the ability to just jump into production. The five- to 10-minute short that ultimately evolves from the funding will be shown next fall.
The experience with the pitch process will then be used once again.

Were going to take it to more investors, Erbach said. Well take it to people who have money and are interested in film, show them, and say, Hey, look. This is what weve done for $ 4,000. If you invest and collaborate with us we can make something really special.
Four departments and six classes in total were involved in the project, whose funding was made possible by the Colorado Community College System. A documentary by the Colorado Film School has accompanied the entire filmmaking journey, culminated by producers and their teams sweating in front of the judging panel with the money on the line to green light their projects.
But such outside-the-box educational experiences are part of the reason why the Colorado Film School once was recognized by Hollywood Reporter as a top-25 film school in the world and gave it honorable mention this year.
The schools impressive, Zuckerman said. Its got a very hands on culture. Kids learn how to actually make a movie and not just talk about film theory. A lot of film schools are very heavy in theory and history and thats not the same as learning how to make a movie. I have seen work here. Ive gone to film presentations and seen some really remarkable work.
Will Hicks, faculty at the Colorado Film School, fully expects to see some of the projects involved in this competition one day made by a small Hollywood or independent studio because many of the stories at their core are marketable ideas.
So many schools do not have student-centric programs and this is a very student-centric program, said Reed, one of the judges. They took students from various aspects finance, computer, accounting, film and brought that all together in a challenge to come together as a team, which isnt the easiest thing to do, but its real world. Thats the part I really respect.
Whomever conceived this idea and brought it to fruition really believes in the student population and the mission of helping them become viable people that can go out to the real world and have a job.
###
About CCA

Community College of Aurora has campuses at CentreTech and Lowry in the greater Denver area. Equipped with the latest technologies, CCA allows students to study new and traditional programs, while also offering Colorado online classes and degrees. CCAs service community spans 325,000 people in a 350-square-mile area and CCAs student population reflects that diversity. The college provides lifelong educational opportunities, prepares the current and future workforce, and promotes excellence in teaching, learning and service.
Find More Tech Press Releases