Embedded Planet's Dual Core MPC8572 AMC Simplifies Migration to Multicore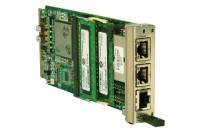 Cleveland, OH (PRWEB) May 21, 2009
Embedded Planet, a leader in computer and embedded systems solutions (http://www.embeddedplanet.com) today announced the next generation of their leading multi-core Power Architecture Processor AMCS. The EP8572A is a dual core PowerPC PrAMC which allows telecommunications equipment manufacturers to easily upgrade their existing single core PrAMCs with minimal disruption.
"Embedded Planet has been providing PowerPC based Processor AMCs for over three years" said Tim Van de Walle, President of Embedded Planet. "Over those three years equipment providers have been asking for more processing power at lower levels of power consumption. The EP8572A represents a significant increase in processing power over existing single core AMCs, with a relatively small power consumption increase."
The EP8572A builds on Embedded Planet's existing line of AMCs by maintaining critical features from the existing platform and adding features that customers requested. The EP8572A features a dual-core MPC8572 processor at up to 1.5GHz, two SODIMMs supporting up to 2GB of RAM each, up to 256MB of NOR flash, and up to 4GB of NAND flash.
For fabric connectivity the both the EP8572A offers extreme flexibility, while maintaining standards compliance. All versions of the board support gigabit Ethernet on AMC channels 0 an 1, compliant with AMC.2, Type E2). Separate versions of the board are available in one of the following configurations: Serial RapidIO on AMC channels 4-7, PCI Express on AMC channels 4-11, or SCOPE-Compliant PCI Express on channels 4-7 and Serial RapidIO on channels 8-11.
In addition to the AMC configuration, the board can operate as a stand-alone module and boot from on board flash allowing for rapid application development outside of the integrated ATCA or MicroTCA environment.
For software support the board features BSPs for Linux, VxWorks, and Green Hills INTEGRITY. The MPC8572 processor features two E500 PowerPC cores which are software compatible with the E500 core in the MPC8548 processor. This dramatically simplifies the upgrade process for equipment providers when moving from the EP8548A to the EP8572A.
Availability
The EP8572A will be available in June in production quantities from Embedded Planet. For information, visit http://www.embeddedplanet.com/products/ep8572a.asp.
About Embedded Planet:

Embedded Planet is the pioneer of the Design, Develop, Deploy process for embedded systems engineering that allows designers to take advantage of production-tested, reusable product designs in all phases of system development, significantly reducing time to market, project risks, and development costs. The company offers integrated single board computer and embedded hardware, software and systems solutions including standard off the shelf single board computer products, embedded operating systems, and full custom design and intellectual property solutions. Embedded Planet's customers are comprised of market leaders who rely on the company to provide a wide range of form factors including: Advanced Mezzanine Cards (AMC) for use in AdvancedTCA (ATCA) and MicroTCA systems, PrPMC cards for use in CompactPCI systems, PC-104, PCI-104, and Computer-on-Module (COMs). Additional information about Embedded Planet can be found at http://www.embeddedplanet.com.
###
Related Ram Press Releases