Cyber Monday Deals are Starting to Post in Dedicated Cyber Monday Deal Section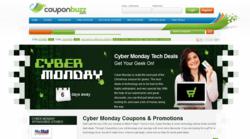 Houston, TX (PRWEB) November 25, 2012
Today online coupon website CouponBuzz.com announced that the first Cyber Monday deals were starting to activate in their new section dedicated to hosting the best Cyber Monday coupons from across the web. The section compiles the coupons from each of the merchants they are affiliated with that revolve around Cyber Monday. Each coupon is displayed, and a short description included of how to utilize it. Exceptions, if any, are also detailed. The user is then provided with a one-click feature which copies the coupon code to their clipboard, and then simultaneously transfers them to the external merchant webpage so they can add the item to their shopping cart.
At CouponBuzz.com we are always challenging ourselves to develop new tools to improve our site visitors experience, explained Justin Bowen, founder of CouponBuzz.com. One of the most common complaints from online shoppers who search for coupons and coupon codes is that it takes far to long to locate them. And when they are found, they are often buried among a mass of computer-generated coupons, that may or may not be obsolete. By creating dedicated merchant pages for our top-selling merchants, and special sections like our Cyber Monday section, we make finding a great Cyber Monday coupon code or deal a matter of minutes.
CouponBuzz.com also offers a unique twist to differentiate themselves from other online coupon aggregating websites. Human employees called Buzz Guides hand-sort the available coupons pulled in from a computer feed, and only include the best ones. They ensure that each coupon is functioning and current, and then give it a Buzz Score, or ranking. This ensures that each coupon users will see on the site is a valid coupon, and that the very best ones are very easy to locate.
The new Cyber Monday section at CouponBuzz.com is up and running, featuring impressive coupon codes from merchants like Best Buy, HP, Lenovo, MacMall.com and Sony. Cyber Monday deals are already activating today, so interested shoppers should take a minute to check the new section out by clicking here http://couponbuzz.com/seasonal/cyber-monday.