Chatwing Releases Online Chat Box for WordPress Graphic Design Bloggers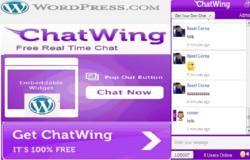 Seattle, WA (PRWEB) September 29, 2012
Graphic designing is always on the verge of development. Every year, based on global statistics, people are coming up of new ways on how to create innovative and inspiring designs. People can learn these ways through online and offline courses, while others can just explore different graphic design blogs. Chatwing, a company specializing in blogging tools, has observed the growth of graphic design niche in WordPress. To fuel this growth, the Chatwing dev team has introduced an online chat box useful for WordPress graphic design bloggers.
Chatwings free chat box is capable of simultaneous and real-time communication with up to one thousand users. In this way, bloggers can reach many people in just a short period of time. According to some bloggers who have used the Chatwing app, the online presence of their blogs has experienced significant leaps. WordPress graphic design bloggers can use the Chatwing shoutbox to share links to their blogs and portfolios. For those bloggers who are building Facebook communities, sending out invitations is allowed in the Chatwing chatroom.
The latest version of the Chatwing free chatbox has a shortened installation process. This is to save time on the part of the user. Additionally, users can add unlimited numbers of chat boxes and moderators. This is useful for group blogs that are vying for higher subscriber bases. The Chatwing team has also added a vanity URL option; now, users can create their own usernames and shortlinks. This allows private group chats between certain individuals.
The Chatwing chatbox has been subjected to many upgrades and developments, many months ago. The Chatwing team believes that enhanced global communication can be achieved by introducing a versatile chatbox that keeps up with the trends and is also highly versatile. In the following months, the Chatwing team will reach out to other online sectors.
About Chatwing.com
Chatwing.com specializes in the new field of website chat. Over years, the Chatwing team has introduced live chat widget for hundreds and thousands of blogs. The Chatwing application bridges people from many parts of the world, creating global synergy through the Internet. The shout box can be installed in just seconds, and it can be used for varying purposes such as leisure and Internet marketing. It also allows a user to customize the size, color, and name of the widget. Chatwing is 100% free for everyone.