Primary Color Announces the Installation of the Vutek TX3250r Dye-Sublimation Printer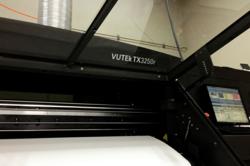 Southern California (PRWEB) July 17, 2012
Primary Color, a full service print solutions company based out of Orange County, CA and Los Angeles County, CA, continues to stay at the leading edge of print technology by installing the Vutek TX3250r dye-sublimation printer. It is capable of printing up to 10 wide at high speeds to create soft signage, backlit signage, banners, POP products, flags, trade show graphics and produces beautiful prints for tension fabric and pillowcase applications.
With fabric and especially backlit fabric applications being a popular choice for exhibit and retail designers, it was a simple decision for us to purchase this new fabric printer from Vutek, mentioned Dan Hirt, President of Primary. In addition to the soft feel and wrinkle resistant features, the TX3250r reproduces the most predictable color in its class. This is crucial for Primary because our customers know us for producing exceptional color managed products.
With high definition 1080 DPI image quality and 8-color printing, the TX3250r prints direct to textiles or indirect via transfer process. It dyes the fabric directly so the fabric retains its drape and soft feel. This device can produce soft signage that is odorless, achieves bright colors and can be washed and handled without harming the print. The TX3250r produces a product that can be folded for easy transportation, reduces shipping costs and leaves a greener footprint.
Primarys in-house display team, fabrication capabilities and their extensive library of fabrics makes them a turnkey provider in the display market. From pop-up displays, pillowcase displays and fabric lightboxes to custom structural design, Primary can produce displays that fit the needs of designers.
To find out more about Primarys fabric graphic and display solutions, please contact Primary at http://www.primarycolor.com/contact/
About Primary Color:
Primary was established in 1985. A commitment to print innovation and service has positioned Primary as an industry leading, comprehensive provider of world-class marketing communication products and services. By focusing on technology, Primary analyzes traditional workflows, recommends improvements and develops and implements modern, systems-driven, print solutions. Primary provides a turnkey service across all pre-media, print and web-based technologies to simplify marketing execution. Primary has been certified as a G7 Master Printer and is a FSC and 3M certified manufacturing facility.
Visit Primary at http://www.primarycolor.com

Signup for the Primary Times monthly e-newsletter here.