Online Social Shopping Platform Boutine.com Launches, Rewards Fashion Enthusiasts with Commission while Promoting Emerging Designers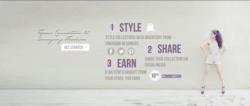 San Francisco, CA (PRWEB) August 02, 2012
Boutine.com, a shopping website that harnesses the social influence of its stylish users by monetarily rewarding those who successfully generate sales between emerging designers and customers, announces its launch. The social shopping platform is now open for users to create and curate their own online boutiques as Stylists and earn a 10% commission on every sale. The website also serves as a sales and visibility platform for emerging designers all over the world. Finally, Boutine will serve as a must-have new shopping site for those hoping to discover carefully curated fashion while enjoying perks such as free shipping, editorial on new, featured designers and more. The fashion industry is already taking note: within weeks of it going live in beta format, the site has received nods from notable sources including Refinery29 and Fashion Week Daily.
Founder Pramod Dabir believes that retail is making a big shift towards social commerce and is growing rapidly. Were seeing fashion influencers such as bloggers shaping the retail landscape. Boutines model rewards these influencers by allowing them to monetize their reach. In the same way, for years women have recommended designers and boutiques to their friends, and these recommendations moved to social media with the rise of Facebook, Twitter, Pinterest and more. Now these sartorial suggestions will benefit both parties involved, the shopper and the stylist.
The Boutine community is comprised of three primary user groups: Stylists, Shoppers and Designers.


Stylists stock their own boutiques with Designer products and merchandise their stores by creating collections. These collections can be shared via social media platforms. Each sale nets the stylist a 10% commission. Find an info-graphic of how Boutine works here: Boutine How It Works
Shoppers discover and purchase new products through exploring boutiques and collections created by both high profile stylists and bloggers along with their own friends. Shipping is free with no minimums.
Emerging designers specializing in womens apparel and accessories have been curated from all over the world and can freely submit products to the Boutine team in the categories of: clothing, jewelry, shoes, bags and accessories.
About Boutine.com

Boutine is a social commerce site based in San Francisco that allows fashion enthusiasts to build their own online virtual boutiques with inventory from emerging designers from all over the world. These boutique owners can style outfits and collections, share with their social network, and earn commissions for sales generated through their boutique. Boutine is the first incentivized social sharing platform for emerging designer fashion.
Press Contact

Sabina Ptacin

press(at)boutine(dot)com

415-562-6884
For more information or photos, please contact press(at)boutine(dot)com
Related Graphic Press Releases