Never.no Announced As Nominee For Best Social TV Technology Award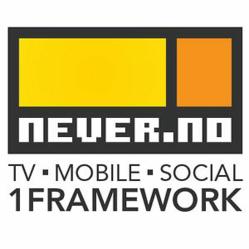 New York, New York (PRWEB) July 31, 2012
Never.no is pleased to announce their shortlist nominee status for Best Social TV Technology in the 2012 CSI Awards held at the International Broadcasting Convention in Amsterdam. The awards, which recognize innovation and excellence across several media platforms, are considered to be one of the most prestigious and competitive technology awards in the industry.
Never.no s Synchronized Companion App Framework has been shortlisted for the brand new Social TV category, which recognizes technology, service, solutions or applications that encourage multitasking and second screen participation.
The Synchronized Companion App Framework is one of the latest features of never.nos Interactivity Suite. This new element allows broadcasters to easily develop distinctive, branded applications that push/pull information or media relevant to real time TV, to a second screen such as an iPad (or tablet), smartphone, or PC. SCAF works by listening to frame-by-frame changes in automation, graphics, ad, or timing systems within the broadcast programming or live production environment via DCS. These changes can be used to trigger delivery of relevant or interactive content to the second screen. Likewise, SCAF powered Synchronized Companion Apps can send viewer data and input back to the broadcast facility via ADS. As a result, tablets, smartphones, and PCs become perfect peripherals for Social TV, participation TV, and the ultimate two-screen experience.
Zachary Weiner, Director of Global Marketing for never.no stated We are incredibly excited to be recognized and in the running for the nomination in this category. It is our goal to continue to develop award winning Social and participatory TV technologies that proliferate across geographies and mediums.
The awards ceremony will be held on Friday 7th September at IBC from 6pm to 7.30pm. Information about the CSI Awards can be found at http://www.csimagazine.com/awards/
Never.no will be displaying their Synchronized Companion App Framework in action in addition to their interactivity suite at the never.no Social TV booth during the IBC exhibition Sept 7-11 at (booth #7.A06)
Read more about never.no at IBC on the never.no blog.
About never.no
never.nos award-winning interactive TV. Mobile. Social. 1Framework. technology connects fragmented media platforms across broadcast TV systems, mobile, and social media platforms enabling real-time viewer participation, Social TV, and synchronized companion apps. In operation since 1999, never.no has a global customer base including top brands such as Al Jazeera, BBC, CBC, Danmarks Radio, MBC, Music Choice, TV Norge, TV 2 Norge, TV 2 Danmark, Viasat, and VOA. More information about never.no products is available at http://www.never.no.
All trademarks appearing herein are the property of their respective owners.