Meeting Strangers Online Made Quicker and Easier by Iddin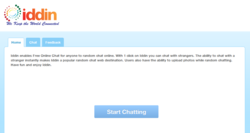 Denver, CO (PRWEB) August 29, 2012
Iddin is a web-based chat widget where users from all over the world gather online. Iddin has gained its popularity because of its flexibility. Users have different options on the way they want to find their stranger through Iddin free chat. Since Iddin covers almost all users all over the world, chatters have the option to choose a specific location as to where their stranger will be coming from. Otherwise, users can always choose the option anybody and the system will zero in to all chatters online from all over the world.
With Iddin random chat, users are guaranteed to be connected to someone in a short period of time. Iddin development team was able to integrate chatrooms, thus increased online users without decreasing online speed and availability.
To start using Iddin, users simply need to go to Iddin.com and click Start Chat. There is no need to create an account or register unlike any other online chat applications. Iddin does not even require an email address to start using this chat online. Iddin highly upholds the privacy of each user. It is upon the decision of the users as to whom should they want to reveal their personal information.
Basically, users are meeting strangers online without any idea who they are talking with. This random chat provided by Iddin promotes continuous and spontaneous conversation between parties. If for any reason, a user no longer likes the stranger that they are chatting with, they can always disconnect with 1 click and reconnect right away to find another stranger. Finding strangers through Iddin random chat is very easy and fast.
Iddin has recently added the photo upload feature where users can upload a photo while chatting with someone. It has been learned that users who have photos were able to make more friends and were able to maintain a lasting relationship.
And since this chat widget is web-based, this has been accessible to all types of users, even to those who are not tech savvy. Also, this spares the users from downloads and updates of software unlike other chat applications online.
Iddin development team has been working around the clock to ensure that users will continue to experience the thrill of random chat and to be able to keep the people around the world connected at the comfort of their own homes.
About Iddin

Iddin is a free web application that specializes in generating random chat with people from different parts of the world. Users can choose the locations of the strangers, or they can have the engine to search the whole world. Random chat is encouraged to preserve the privacy of people and also to empower spontaneous connection that is fun and interesting. With 1 click on Iddin you can chat with strangers. The ability to chat with a stranger instantly makes Iddin a popular random chat web destination. Users also have the ability to upload photos while random chatting.
Related Tech Press Releases