Lawn Belt – An Easy To Install Sprinkler System for Do-It-Yourselfers – Launches Pre-Configured Kits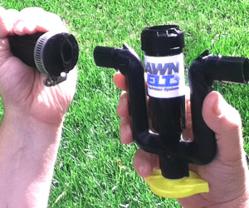 McCall, ID (PRWEB) August 22, 2012
An online Do-It-Yourself Sprinkler outlet LawnbeltUSA.com, announced today they will be simplifying their product line for their online shoppers.
Larry Burke, President of LawnBeltUSA remarks, "Ease of design and installation are what many homeowners are looking for in a sprinkler system. Customers want a watering solution that is easy to understand and install. The new sprinkler system configurations will make their shopping experience a lot easier."
The Lawn Belt Sprinkler Systems are made in the USA and are designed so that they can be attached to your outdoor faucet. The freeze proof conduit is only required to be installed less than 2 inches below your turf using a flat shovel. The company also states that their in-ground systems can be easily installed in less than 4 hours.
Lawn Belt Sprinkler Kits for lawn areas will now be offered in three different configurations.
The new sprinkler kits added today are as follows:


The Small-Lawn Kit – includes 3 full round sprayers which will water up a 15-18 feet in diameter circle. (for lawn sections measuring 15'x60′)
The Big-Lawn Kit – includes 3 adjustable rotor head which spray a 40 foot diameter. (for lawn sections measuring 40'x60′)
The Lawn-Strip Sprinkler Kit – includes 3 stationary sprayed which spray a rectangle (for small side areas and lawn strips measuring 5'x60′)
Each Lawn Kit will contain all the required fittings plus 50′ of conduit to in order to connect a 3-heads sprinkler system to your outdoor faucet.
Lawns that require more than one kit can be attached to a splitter at your outdoor faucet and operated independently to achieve maximum pressure.
Mr. Burke continues, "We encourage those interested in our products to contact our experts. We understand that shopping for a sprinkler system can be a little daunting at first. We offer U.S. based technical support and design assistance as well. "
Optionally Lawn Belt can supply you with a sprinkler timer which can water up to 4 kits all at different times.
About LawnbeltUSA Inc.
Lawn Belt is a sprinkler system providing a simple watering solution for small and large lawn and garden area. All in-ground Lawn Belt systems are made in the USA.
LawnbeltUSA specialize providing low cost do-it-yourself sprinkler kits for Homeowners, Landscapers, RV Parks, Motels and other various small business.
Since 1999 Lawn Belt has been providing homeowners with an alternative to conventional PVC Sprinkler Systems.
For more information visit their website at http://www.lawnbeltusa.com. For video demonstrations, please visit .
LawnbeltUSA is located in McCall, Idaho USA and is open for tech support and sales questions between 8-5 M-F PST.
Erik Zetterberg Tel: (877) 529-6235, orders(at)lawnbeltusa(dot)com