iPad Game: Classic Top-Down Shooter Alien Breed Set To Hit The iPad Screen This Summer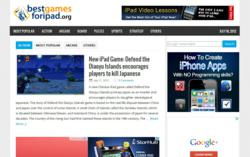 Phoenix, AZ (PRWEB) July 23, 2012
A leading independent expert has announced that iOS fans can expect to see one of the most classic top-down games in history coming to an iPhone or iPad near them soon.
Bestgamesforipad.org, the leading updates site for iPad gamers, revealed that classic shoot em up game Alien Breed, developed by Team 17, is set to appear on the iPad later this summer in a stunning new remake of the game.
The website announced that the new variant of Alien Breed will actually be a universal iOS application, available to download on the iPhone and iPod Touch, as well as the iPad.
Dan Lim, editor of Bestgamesforipad.org had plenty to say about the release of the new game:
Alien Breed is a classic survival-horror game that proved immensely popular back in its 1990s heyday. Weve learnt that the new iOS version will support two versions one featuring the old-school graphics from its Amiga incarnation, and the other supporting new retina-enhanced graphics for those who prefer a more realistic experience.
In addition, the game will feature quite a few new additions, such as new weapons, keys and an in-game store where players can buy extra ammo.
Dan said that Alien Breed had been penciled in for an August 2012 release date, and that Bestgamesforipad.org would inform its readers the moment the game becomes available to download on the iTunes Store.
Alien Breed iOS gameplay will bear a very close resemblance to the original 1990s games, said Dan. Three different sets of maps will be featured, including one from the original 1991 version, one from Alien Breed Special Edition, and one new map, known as Alien Breed Convergence.
While the game makes use of the iPads touch-screen controls, users will also be able to use the Gametel controller or Ion iCade controller to play the game.
Were very excited about this release, we think it could become one of the best-selling iPad games this summer, added Dan.
About Bestgamesforipad.org
Bestgamesforipad.org is a leading independent news and updates website for the iPad gaming industry, featuring dozens of reviews and news articles for the top iOS game titles. Regularly updated with news, hints and tips, the website has quickly become the favorite resource for thousands of iPad gamers since its launch earlier this year. For more information, check out the website at http://www.Bestgamesforipad.org.
Related Graphic Press Releases