Educational Institutions Praise Tryten Technologies Proven Mac Mini Security Mount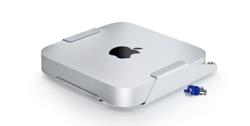 Seattle, WA (PRWEB) September 10, 2012
As educators prepare for the beginning of another school year, IT departments have been proactively seeking out physical computer security solutions for the computer labs, libraries and classrooms under their management, turning to Tryten Technologies for trusted security solutions.
The saturation of Apple products within the educational sector has demanded physical security solutions that meet these unique challenges. The Mac Mini Security Mount offers schools all the advantages of traditional mounting equipment, including ergonomic benefits and increased work surface space, in addition to providing essential security features. Serving as the first line of defense against the theft, Trytens security mounts and enclosures eliminate the need to recover or replace costly school computer equipment.
The Tryten Mac Mini Mount includes a seven pin pick-resistant lock, safely securing the Mac Mini to a variety of locations including the back of a monitor or to any side of a workspace without limiting functionality. With complete coverage on all four sides, the Mac Mini Security Mount securely locks computer hardware in place, providing of mind for educational administrators and IT managers. At the same time, we know how important usability is for our customers, so theyre pleased to still have full access to all peripheral connections on the rear side, all while maintaining optimal signal strength for WiFi and Bluetooth connections,Jim Stanley, Trytens Director of Product Development.