Braintree Printing Launches Social Media Marketing Campaign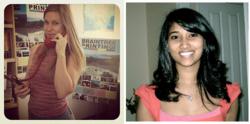 Braintree, MA (PRWEB) August 31, 2012
Braintree Printing, a digital printing and offset printing company serving printers and print brokers throughout the Northeast, increased its social media outreach this summer with an online marketing campaign. In just six weeks, the Braintree, Massachusetts-based printer dramatically improved its online visibility by creating numerous customer service and how-to printing videos, along with fun and informative Twitter, Facebook, Tumblr, and Linked In posts.
Jim Corliss, the owner of Braintree Printing, said the company reaped the benefits of the fearless, tech savvy younger set when it hired Sindhu Reddy, a recent Mount Holyoke College graduate, as a social media intern. Sindhu jumped right in and learned about our business. She got to know our employees and customers. And then took what shed discovered and created a fantastic social media campaign, said Corliss. Her enthusiasm was contagious. She even convinced me to star in a YouTube video.
Along with Liz Rowe, Braintree Printings online controller, Reddy created forty YouTube videos about Braintree Printing. Many were straight-forward with printing tips and tricks, others promoted specific services or equipment, and still others were light-hearted, such as the game show, or man on the street beach interviews. All were creative and engaging and aimed at entertaining viewers while educating them.
Rowe said Braintree Printing increased YouTube views by over seventy five percent in just one month. The videos have triggered conversations during our sales calls, she said. Customers are watching and commenting. They can see what Braintree Printing is all about. She said integrated posts have also been created for social media channels such as Twitter, Facebook, Tumblr, and LinkedIn.
About Braintree Printing

Braintree Printing provides offset printing and digital printing for printers and print brokers throughout the Northeast. Owned by Jim Corliss, Jerry Hogan and Jose Tafur, the 30-year-old company specializes in high-end, 4 and 5 color offset printing and digital printing, book printing, and various types of bindery and finishing. With $ 6.51 million in annual sales, Braintree ranked 18th in North America and was the highest ranking Massachusetts printer on Quick Printing Magazines 2012 Top 100 List. Braintree Printing operates in a 17,000 square ft plant on Wood Road in Braintree, MA. Business hours are 8:30 am to 6:00 pm, Monday through Friday, with production areas working 24/7 to meet customer demand. For information, call 781-848-5300 or visit http://www.braintreeprinting.com.