WSI and Onsemble Launch WindCast RT for ERCOT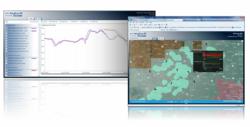 Andover, MA (PRWEB) June 28, 2012
WSI (Weather Services International), the most trusted global weather solutions provider, and Onsemble, operator of the only hub-height wind observation network in ERCOT (Electric Reliability Council of Texas), today announced the introduction of WindCast RT (Real Time). WindCast RT is an energy trading decision support tool providing a graphical visualization of wind speed and direction in combination with a wind generation forecast that is updated each hour. WindCast RT forecasts are more skillful than any other ERCOT wind updates currently available.
WindCast RT combines best-of-breed features from both Onsemble and WSI. The tool provides real-time readings from Onsembles West Texas network of sensors capturing wind data. Every ten minutes, through a mapping interface, clients can view the latest wind speed and direction from each of Onsembles towers, which are strategically located near existing wind farms. WSI combines this with its leading RPM mesoscale model, delivering an updated forecast every hour, up to twelve hours ahead.
Because wind generation has become an increasingly large percentage of the power stack, monitoring and forecasting of wind fluctuations is a critical piece of the bal-day trading puzzle and – a vital component of success for energy traders. WindCast RT has these capabilities and provides traders with a tool that will improve bal-day trading decisions impacted by wind generation, said Robert Boucher, WSI Product Director, Energy & Risk Services. Synthesizing real-time, hub-height observations and skillful forecasts, WindCast RT offers an important competitive edge that is essential to capitalizing on the markets wind-driven price fluctuations."
How it Works

The WindCast RT platform allows traders to compare the six most recent RPM and official ERCOT hourly forecasts within the same application interface for better understanding of forecast trends. WindCast RTs information is constantly updated in real-time and can be aggregated across multiple regions or charted to reflect a specific region of the market, such as West Texas.
WindCast RT offers: