Unlimited Ltd. Releases "Shapes" Collection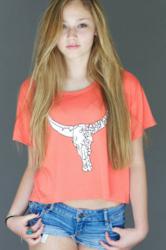 Los Angeles, California (PRWEB) June 22, 2012
Unlimited Ltd, a popular underground clothing company run exclusively by teenagers, released its second clothing line Monday, June 18. Dubbed the "Shapes" collection, Unlimited's sophomore release showcases graphic art from a variety of young artists centered around a common geometric theme. The collection is sold online as well as through The Gold Standard.
According to COO Henry Elkus, the line highlights Unlimited Ltd's "crowd sourcing" component that separates the clothing company from its competition. The business utilizes the vast network of young artists through social networking in order to hand pick designs for each unique collection. After their initial launch in April of 2012, the company exploded in popularity after quickly selling out their first line and experiencing celebrity promotion.
Unlimited's potential is growing. The business announced their next line in early June — a partnership with the immensely popular Brandy Melville. According to Elkus, Unlimited will begin an internet campaign in the coming weeks. The company is also blueprinting plans to expand into the flourishing clothing industry of Japan and Korea, and plans to partner with action sports photographers to produce demographic-specific clothing lines.