The Silver Family Shines in Salt Lake City Community By Offering Healthier Snack Options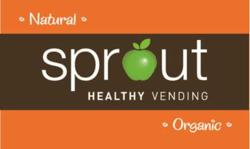 Irvine, California (PRWEB) June 26, 2012
Sprout Healthy Vending, a national leader in taking the vending industry in a healthy direction at work, school and in the community, will now be available to the people of West Jordan, Utah thanks to newest operator Melissa Silver.
Silver (a Salt Lake City native) and her husband had been looking to start a business of their own for a while when one day they came across Sprout Healthy Vending. The healthy aspect of the business is what intrigued them the most.
I have been married to my husband, Todd, for 19 years and we both struggle with our weight. This is not only a great business opportunity to do together, but also a way for the both of us to eat healthier. I have two of my own children, as well as a stepdaughter and a grandson. It is important to me that my children learn to eat healthy as well, Silver shares. Lately across the nation there has been a push to be more healthy and conscious of what we eat, which is most likely due to the rise in obesity rates, especially in young children. Having a healthy option now will help contribute to a healthier community overall. Silver believes that their community will welcome the concept with open arms in hopes of creating a healthier future for their youth.
We think the healthy vending option will be very well received in our area especially considering there are no other options like this being offered, we are thrilled to be the ones to offer it, says Silver. We are most looking forward to helping people make better and healthier choices for themselves just as my family and I have.
The Silver family understands the importance of convenience and on-the-go snacks in todays day and age. Combining convenience with nutrition is a major plus in their eyes in addition to the state of the art vending machines. These main factors are what they attribute to their future success with Sprout.
The graphics on the machine, of course, was the first thing that stood out, but there are a lot of great things about the machine including the incredible technology, Silver states. I think it is important for a consumer to have the option of using cash or credit cards.
Co-Founder Chris Wyland echoes the sentiment, Here at Sprout we, like Melissa and her family, understand the importance of the technological capabilities and that is why we offer nothing but the best. Our state of the art machines are like nothing else out there. Between the credit/debit acceptor and the wireless monitoring and reporting, the technology cuts down the amount of labor and time by half. This makes the consumer happy as well as our operators.
The Sprout staff has been great to work with. They stand out in every area, Silver says. They have been very helpful, friendly and organized and we look forward to a long-lasting successful relationship with them!
About Sprout Healthy Vending
Sprout Healthy Vending provides state-of-the-art vending technology, thousands of healthy and organic products and turnkey customer solutions for regional operators. Currently, Sprout Healthy Vending has over 70 operators in 40 markets in the U.S. with 1,000 individual locations projected by the end of 2012. To learn more about the company, locations and products please visit http://www.sprouthealthyvending.com or call (800) 450-7648.