The New Office Space Is All About Lifestyle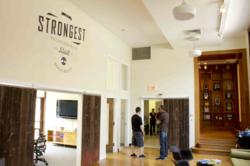 Boston, MA (PRWEB) June 30, 2012
Office space has been undergoing a major cultural revolution ever since post WWII. Directly after WWII, the office space became a reflection of self-worth. Then in the 80s it became a sharing open floorplan of cubicles. By the 90s, the high-tech start-ups pulled down the walls and the office space was wherever you could set down your laptop. We now live in a knowledge economy and lifestyle plays an important role in the office environment.
Small Army, a boutique ad agency, located in Bostons old Horticultural Hall, directly across the street from the Boston Symphony Orchestra tapped into this new trend in a big way. According to Steve Kolander, EVP/Creative Director of Small Army, We consider ourselves storytellers instead of ad guys, and we wanted an office space that felt more honest and less manufactured. In an effort to bring this unique direction to life, Small Army hired a young team of designers called The Makers Co. to make a space that was collaborative, free-thinking, imaginative and self-reflective.
Senior art director, Christian Williams of Small Army happened to be one of the Makers, and so with an intimate knowledge of its personality, Christian and his team began to sketch out ideas for the new space.
Leveraging the 30 ceilings, the initial concept began with dreams of a tree house. But, costs and a rapidly approaching move date quickly turned that plan into a phase 2 initiative.
Perhaps one of the more interesting and unique experiences about entering the Small Army workspace is the absence of a receptionist. Instead, graphics and unique architectural details serve as a guide into the space. The walkway is like falling through a rabbit hole into a storytelling factory. You pass through an editing bay room, and two phone rooms until you find yourself in a large living room with couches, chairs and 15-foot high windows with massive amounts of sunlight pouring in. Above the conference rooms sliding barnyard doors reads the moral to the Small Army story: The strongest relationships are built on shared beliefs. This is the centerpiece and rallying cry of every Small Army employee. According to Williams, The idea of working at a desk all day is antiquated thinking. Our goal was to create a variety of non-traditional spaces where people could break free of their desks and work in a setting that is most efficient to them.
As a result, The Makers created a caf