Sirius Computer Solutions Helps AISO.Net Become More Eco-friendly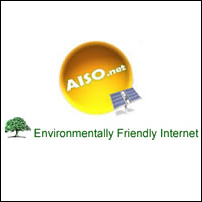 Romoland, CA (PRWEB) October 24, 2006
AISO.Net, California's first and only solar-powered hosting company announced today that they have chosen Sirius Computer Solutions, a leading technology company in business for 25 years, specializing in high end data storage and virtualization software. Using VMware, Sirius Computer Solutions will enhance their data center and reduce electricity usage by providing a high end, scalable infrastructure solution for their dedicated and shared hosting clients. AISO is moving all of their physical servers into virtual machines, which in turn will reduce power consumption and will be better for their clients and the environment.
Based in Romoland, California, AISO.Net has been providing environmentally friendly web hosting services since 1997. Using solar panels to power its data center and network, AISO.Net hosts web sites and dedicated servers for customers throughout the US and many other parts of the world. Due to the massive growth of web hosting and dedicated server clients, AISO.Net chose to virtualize their hosting solution. VMware and NetApps' clustered SAN (storage area network) solution was a natural fit to reduce power consumption within their data center.
"Many hosting companies decide to sell low cost dedicated servers and hosting services to clients and when disaster strikes these low cost unreliable solutions can have hours of downtime. People usually don't think about downtime and data loss until disaster strikes. That is why this solution is so good." says Phil Nail, technology manager for AISO.Net. The SAN is clustered and takes a server snap shot every 3 hours, yet is configurable per virtual machine. This means that if a disaster strikes, a server can be restored and back online in a matter of minutes. This is the best solution on the market and it is proven technology that is used by other major companies such as 7 Eleven and Monster.Com.
In addition to providing additional redundancy, VMware and NetApp provide AISO.Net with increased flexibility and scalability. As AISO.Net continues to grow, the storage can be increased simply by adding additional fiber drives. Load balancing and CPU power can be adjusted with the click of a mouse. The NetApp SAN is built with redundant power supplies, fans, CPUs and network connections so the storage appliance will continue working if any component fails. Because the components are hot swappable they can also be repaired or replaced without having to schedule downtime.
With VMware's VMotion technology, unique to VMware, the system will automatically move running virtual machines from one physical server to another with no impact to end users (Zero Downtime), allowing maximum resource availability to each machine. Plus all of the virtual machines have network card failover and load balancing between separate network cards enabling greater hardware availability, speed and fault tolerance. The VMware systems also continuously monitor all physical servers in the cluster and almost instantly without human intervention, restart the virtual machines on a different physical server in the event of a server failure, so they are back online within minutes.
AISO.Net is the only true 100% solar powered data center that does not use green energy credits. They are proving their commitment to be the best, most reliable eco-friendly hosting company in the world. In 2007 eco-friendly hosting company AISO.Net will become the first and only public data center in North America to add a green roof to their facility.
About AISO.Net
AISO.Net has been a trusted name in environmentally friendly web hosting since 1997, providing a level of service that is unmatched in the industry. All network and server hardware is fully redundant with 24×7-automated systems monitoring to ensure the highest possible uptime. Using solar panels to power its data center and network, AISO.Net is the first and only 100% completely solar powered web hosting company. Customers as far away as Kenya, East Africa rely on the service and reliability offered by AISO.Net.
About Sirius http://www.siriuscom.com


Sirius is a national IBM Premier Business Partner and the world's largest IBM eServer reseller. Sirius provides IBM solutions to leading companies of all sizes and industries. Sirius' certified and experienced sales and technical teams design, integrate, deliver and modernize IT environments that make businesses more competitive.
About VMware http://www.vmware.com


VMware, an EMC company (NYSE: EMC), is the global leader in virtual infrastructure software for industry-standard systems. The world's largest companies use VMware solutions to simplify their IT, fully leverage their existing computing investments and respond faster to changing business demands.
About Network Appliance (NetApp) http://www.netapp.com


Network Appliance is a world leader in unified storage solutions for today's data-intensive enterprise. Since its inception in 1992, Network Appliance has delivered technology, product, and partner firsts to simplify data management.
# # #
Find More Cpu Press Releases