San Diego Printers ReproMagic Hereby Announce the Launching of Their New Website Presence and Facebook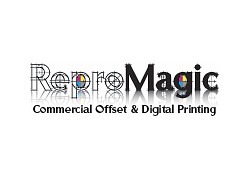 San Diego, California (PRWEB) July 14, 2012
One of San Diego's premier printing services companies is proud to bring to the public a new website interface. Repro Magic are known for their relentless pursuit of delivering high quality San Diego printing that meet the demands of businesses in and around Southern California and they are now adding a new dimension to their impeccable service. Printing and bindery services clients in and around San Diego can now get quotes, place orders and upload their files on the new website. Repro Magic always strives to make customer's printing demands a little faster and easier with the same great quality.
ReproMagic is San Diego's complete resource for one stop offset printing, digital printing, reprographics and bindery. Their production center features four offset printing presses, four fully-networked Xerox DocuTech copiers and a digital press, the Kodak Nexpress, so that any order, from the smallest to extremely high quality and high quantity, can be fulfilled promptly. ReproMagic also has a complete in-house bindery and finishing department. From prepress through finishing, their staff prides itself on their superior attention to detail and pride in workmanship.
Green Printing in San Diego
At ReproMagic, sustainable living is a fundamental value. All of their inks are soy-based, reducing the need for petroleum-based products. They have developed a recycling program that insures that 90% of the set up and trim paper is recycled. They recycle 100% of the aluminum plates, which reduces waste and overhead. Those savings are then passed on to the customer.
The majority of the stocks ReproMagic recommends are chlorine free papers. In the 20th century chlorine has been the chemical most used for bleaching paper products. This has contributed to the poisoning of water supplies. As San Diego printers, ReproMagic does their best to guide clients to recycled chlorine free, recycled products as a measure of sustaining our planet.
ReproMagic is conveniently located at 8585 Miramar Place. As one of San Diego's premier printing shops their services include: Fulfillment, Assembly & Collation, Custom Hand Assemblies, Packaging, Storage & Shipping, Variable Data Printing, Direct Mail, Saddle Stitching, Perfect Binding, Plasticoil and Die Cutting. They can be reached on the Web at: http://www.san-diego-printers.com and on Facebook at: https://www.facebook.com/SanDiegoPrinters
More Tech Press Releases