Runaway Hit AstroWings3: Icarus Celebrates App Store Success with Free Sale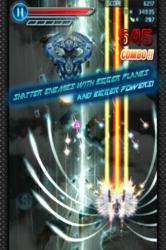 Los Angeles, California (PRWEB) June 29, 2012
AstroWings3: Icarus, the third installment in M2M Games popular AstroWings series has met fans expectationsand exceeded themjudging by its success thus far. With downloads exceeding predictions, Mobile 2 Mobile Games has decided to celebrate, and further spread, the popularity of the new release with a special limited time offer. For a limited time only, AstroWings3: Icarus will be available for free download in the iTunes App Store.
Following in the footsteps of AstroWings1: The Space War has Begun and AstroWings2: Space Odyssey, the third game in the series combines mythological themes with technological toys to create an epic narrative backdrop for a vertical scrolling space shooter. In AstroWings3: Icarus, gamers take on the mantle of Icarus, but simply gaining the skies isnt enoughthey must dominate them. Hera takes the role of heroine, leading the old gods of Olympus in a full HD space battle against their upstart rivals, and only victory can ensure their survival and galactic peace.
With new items, weapons, ships, and upgrade systems to complement optimized gameplay and a spectacular original soundtrack, AstroWings3: Icarus delivers for its fans. And with this sale, it will likely gain many more.
AstroWings3: Icarus is available now in the iTunes App Store, and is free to downloadfor a limited time.
Major Features:


Mythology meets technological mayhem in this legendary space adventure! Choose from 3 classically named futuristic fighters: Athena, Ares and Poseidon 3
High quality FULL HD Graphics for stunning visual effects and unbelievable animations (To maintain compatibility with older devices, users can customize the game's graphics via the options menu; gamers with newer devices should choose "High" to enjoy Astrowings 3: Icarus at its best.)
Experience epic outer-space combat with a sensational soundtrack of original music composed to be the perfect audio background for airborne battle
Upgrade your weapons using Astrowings 3's innovative new upgrade system, allowing you to increase each weapon's power chain-massive combos
Intuitive touchscreen interface and smoothly calibrated controls give you pick-up-and-play simplicity.
Astrowings 3: Icarus is compatible with most iOS devices: download and play this universal app on your iPhone, iPod touch, and iPad (Please check compatibility notes for specific requirements.)
iTunes Appstore: http://itunes.apple.com/us/app/astrowings3-icarus/id532457194?mt=8