Pranay Shah Joins Certified Payment Processing as Vice President of Operations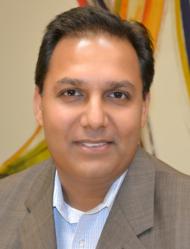 Carrollton, TX (PRWEB) July 25, 2012
Certified Payment Processing (CPP) recently hired Pranay Shah as Vice President of Operations. In this role, he will be responsible for overseeing CPPs day-to-day operations, including strategic planning and execution to enhance profitability, meet production goals and maintain efficiency throughout the company. He will oversee several strategic areas, including the Telemarketing Center, Recruiting Center and Applications Processing.
Shah comes to CPP with more than 18 years of experience in the Financial Services Industry. He was Vice President of Operations for Vantiv in Dallas. In that position, he had oversight of multi-site operations that included Customer Service, Collections, Outbound Servicing, Work Force Management as well as Training and Quality Assurance. He also spent 10+ years with Capital One, where he held progressive management positions in several diversified financial services sectors including Card Issuing and Auto Finance and managed all aspects of the Contact Center Operations from Inbound/Outbound Servicing, Collections, Retention and Business Process Outsourcing.
Shah is currently working on his MBA in Leadership & Sustainability from the University of Cumbria, (United Kingdom).
CPP is a provider of credit card processing services and also leases point-of-sale terminals that quickly process all forms of payments: debit and credit card transactions, gift cards and checks. The products and services are designed to help businesses increase revenue, control costs, improve efficiency, enhance data security and provide their customers with the most popular payment methods.
# # #
About Certified Payment Processing

Certified Payment Processing, L.P. (CPP) has been a leader in the industry for more than 20 years, and has hundreds of dedicated sales consultants in the field throughout the country, supported by 300+ office employees headquartered in Carrollton, Texas. With three direct sales divisions TransTech Merchant Group, Summit Merchant Solutions and ISIS Direct CPP has more than 40,000 active merchants and annual transaction volume in excess of $ 3 billion. Those interested in learning more about career opportunities at CPP are encouraged to visit the career site.
Related Tech Press Releases