One Firefly LLC, Exclusive Reseller of Innea Home Automation Demo Software, Announces New Innea Apple iPad Application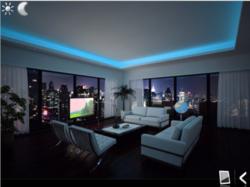 Hollywood, FL (PRWEB) June 20, 2012
One Firefly LLC, the parent company to Firefly Design Group, Firefly Programming, and Firefly Creative, is proud to announce its latest next-generation virtual home automation demo tool produced by innea. The iPad livingroom app by innea is an exciting new addition to the innea virtual tour lineup that allows dealers to create a virtual showroom demonstrating the power of home automation applications while using the iPad alone. One Firefly is proud to be an exclusive dealer in North, Central, and South America of the innea line of virtual demo products which include PC Software, web demos, and now the just released Apple iPad app called innea livingroom.
Inneas previous versions of the software which include PC and web demo applications demonstrate beautiful 3D graphics and tasteful ambient design while accompanying users as they navigate from room to room to raise and lower curtains, change lighting options, interact with a home theater system and more, in exactly the same way that they would with an actual automated system. Currently, there are more than 40 Crestron interfaces in the program with HAI, Lutron, AMX, Savant, Control4, RTI in development or close to launching. Its important to note dealer specific user interfaces can be customized and incorporated using the manufacturers control device as intended for the room.
The PC software and web demo virtual solutions by innea are perfect for online web visitors or demonstrating the software using a PC computer. With the addition of the livingroom iPad app, dealers can now utilize the most popular smart tablet device, the Apple iPad, when demonstrating and selling to a potential client. After all, most homeowners will end up using an Apple iPad in at least one room to control their home automation devices. It makes sense for dealers to use the iPad as the actual demo device when giving a virtual home automation tour.
Home control systems dealers can use the innea livingroom app to quickly show prospective clients the functionality of a fully-equipped automated living room without the expense of setting up an extensive physical demonstration. The app includes a beautifully-rendered living room featuring lighting, audio/ video, and shading controls.
While a limited 14-day free version of the livingroom app is available in Apple's App Store as a trial, the app can then be purchased for $ 999.99.
One Firefly believes that inneas new virtual automated livingroom app will be a tremendous value to dealers and automation integrators who wish to offer these high-tech services, without the much higher cost of investing in a full physical showroom. In addition, dealers no longer have to schedule appointments for clients to visit their showroom that may be too far out of reach. Dealers can now have the showroom accompany them to any meeting or scheduled client visit; creating the possibility to show an example of automation at any given moment using their iPad.
Ron Callis, CEO of One Firefly LLC expressed his enthusiasm over the recent announcement of inneas new livingroom app, We are very excited that innea has gained approval from Apple to sell the livingroom virtual demonstration in the app store, and we think its going to be an awesome tool for integrators in the field to show and demonstrate automation to their customers.
Architects, home designers, and home automation integrators are encouraged to visit the websites of One Firefly and innea to further investigate the power of this fascinating new virtual demo. It puts the power of automation directly into the hands of any interested prospect, giving them the freedom to fully explore all the possibilities that home automation offers.
About One Firefly LLC

One Firefly is the parent company of three distinct business units, each offering a unique collection of custom electronics services. Founded in 2007, One Firefly's lineup offers a range of next generation design, engineering, programming, and public relations products all aimed at seizing the possibilities that automation provides in both the home and office. One Firefly seeks to bring balance and clarity to their clients 21st century vision.
About innea GmbH

Located in Karlsruhe, Germany, innea is the global leader for interactive visualizations of building control systems and one of the pioneers of high-end virtual demos. The products innea proudly puts out are focused on helping sales staff connect with customers, showing them the power of automation products. As Andreas Hager, Technical Director of innea puts it, This is the beauty here at innea, to create beautiful products that just work for you.
Contact Information

One Firefly LLC

2028 Harrison Street, Suite 203Hollywood, Florida, 33020 Ph. (305) 335-2861 email: ron(at)onefirefly(dot)com Web: http://onefirefly.com/
innea GmbH

Durlacher Allee 5376131 Karlsruhe Germany Ph: +49 721 / 62 690 770 email: info(at)innea(dot)de Web: http://www.innea.de/en/