Neowiz Internet Announces the Worldwide Launch of London 2012 Official Mobile Game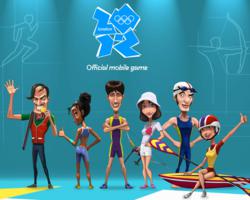 Seoul, South Korea (PRWEB) June 19, 2012
Neowiz Internet is proud to announce the launch of the Official Mobile Game for the London 2012 Olympic Games. Available to download today and play on leading smartphone and tablets, London 2012 Official Mobile Game is the exclusive worldwide mobile game of the XXX Olympiad.
London 2012 – Official Mobile Game allows users to create a virtual athlete and participate in Olympic events in authentic London 2012 Olympic venues. Your athlete can participate in 9 Olympic events such as Double Trap, Archery, 110m Hurdles, Swimming, Kayak and more. Appealing to both new and seasoned gamers, the games intuitive controls, superb graphics and authentic London 2012 venues puts you at the heart of the action like never before. Soak up the atmosphere, prove youre the best and immerse yourself in the worlds biggest sporting event the Olympic Games.
Represent your country and design, train and improve your athlete just the way you want – with hundreds of unique customisations. Compete in three different modes; training mode where you can prepare for the Olympic Games; Olympic mode where you can compete for the gold medal or Challenge mode where you can challenge your Facebook friends or complete in-game challenges. Prove youre the best by building your own trophy collection and reach the top of the leaderboard.
London 2012 – Official Mobile Game is available to download as a premium or a free game. The premium version, priced at $ 2.99, provides 5,000 stars with which users can purchase game items and customise their athlete. The free version can be enjoyed at no cost with additional game items available to purchase at any time.
In celebration of the game launch, please join us on the official fan page. Visit http://www.olympicvideogames.com and Like us on Facebook.com/london2012mobilegame for more information and to download the game!
London 2012 is available immediately at the Apple App Store and Google Play.
About Neowiz Internet:

Neowiz Internet is a global pioneer in digital interactive entertainment. The company develops and publishes innovative mobile games through its mobile social game platform, Pmangplus and its music streaming and download services reach millions of people worldwide. Contact london2012@pmangplus.com
About ISM:

ISM is the IOCs exclusive worldwide licensee for Interactive Entertainment Software. In addition to these exclusive rights, ISM is one of the worlds leading providers of sports fantasy games working with a number of sports governing bodies. Visit the company's website at http://www.ismltd.com