MicroStrain Cloud-Enabled Bridge Monitoring System Deployed to Evaluate Seismic Isolation Bearing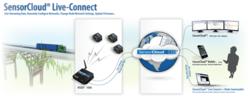 Williston, VT (PRWEB) August 31, 2012
Unique traffic loads, environmental conditions and seismic events can exert undesirable stresses on structures such as highway bridges.
One bridge in four in the Unites States is either structurally deficient or functionally obsolete. Monitoring the field performance of bridges is critical for optimizing design, maintenance and securing the long-term use.
BridgeComposites, LLC of Hornell, NY deployed a MicroStrain wireless bridge monitoring system to track the performance of seismic isolation bearings. The autonomous system continuously communicated bearing health and environmental data to engineers in real-time.
MicroStrains web-based data visualization and analytic tools on SensorCloud enabled BridgeComposites and researchers to more efficiently and cost-effectively characterize the long-term performance of bridge components.
MicroStrains wireless monitoring solution drastically reduced installation time compared with hardwired systems, while preserving scalable, synchronized high-speed data across any length bridge.
The network was comprised of seven wireless sensor nodes including: two G-Link