MAGnificent Signs Partners With Vantage LED to Provide High Quality LED Signs to the Entire Inland Northwest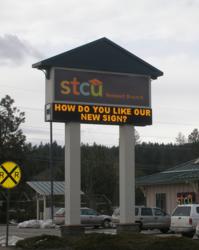 Spokane, WA (PRWEB) July 11, 2012
Michael Glen has been in the sign business for close to 25 years. The first 17 were spent helping to grow a small 5 person company he worked for into a multi-million dollar sign organization. After experiencing a significant drop in reliability and production times, he realized a change was needed.
The quality was dropping and the promised install dates were not being met…[The] decline in those areas adversely affected my working relationship with my clients. he said. So I started a company that meets the needs of my clients while getting them the best quality for the best price.
In January 2005, MAGnificent Signs opened for business promising high quality signs and service to the Inland Northwest and Northern Idaho. Now, 7 years later having grown a substantial customer base, they are a major resource for business, commercial and LED electronic display signage in the area offering surveys, design, permitting, installation and project management. They have supplied Spokane Teachers Credit Union with signage for many years, finishing a new LED sign at the Newport, WA branch in March. According to Mr. Glen, professionalism, timely completion, product quality, and unbeatable pricing are what set them apart from the rest of the pack.
We try to live by the Golden Rule and treat everyone as we would like to be treated; with care and respect he said.
Integrating LED signs into projects is a familiar process to Mr. Glen. He has gained a great deal of experience with a variety of manufacturers over the past 24 years. Unfortunately, the sign industry in general is not known for quality support; a fact not easily overlooked by Mr. Glen who has experienced this first hand with more than one manufacturer.
Often you will call into tech support and the phone just rings and rings, he said sometimes its impossible to get a hold of anyone quickly.
Early last year, he was contacted by Vantage LED, a US based LED sign manufacturer in Corona, CA. He was impressed with the professional approach taken by the sales representative and their commitment to a quality product.
After discussing the way [they] build the displays in southern California with only the best LEDs, high wattage power supplies, solid state controllers and ease of installation, it was an easy decision. he said.
He does not regret this decision and has been pleased with the results thus far. The quality is exactly where I want it to be, he said the displays come from the factory pre-configured so that the installation takes a couple of hours; less time than the previous vendors displays, and the support staff is great
Vantage recently revamped their website and introduced a new Powered by Vantage program, focusing on providing more resources to support dealers and partners including white papers, revised manuals, documentation, sales tools and co-branded brochures. Mr. Glen has taken full advantage of these resources and is proud to use them on both his website and Facebook page.
Their goal [is] to do everything in their power to make their dealers as successful as they can while building a long term business relationship with them. he said.
Supporting LED signs can be a challenge, even for large companies. Anything a manufacturer can do to facilitate quality support will benefit both the end user and dealer. Mr. Glen is impressed with Vantages approach to these challenges, especially with their LightSpeed sign control software.
By incorporating the creation programming and the scheduling into one software program, [they have] simplified the learning process for the client as well as saving them time. he said.
Overall, Mr. Glen is very happy with the partnership and looks forward to working with Vantage to continue to provide some of the best signage in the northwest.
I've worked with several EMC manufacturers over the 24 years in this industry and I can honestly say that Vantage LED has been the best to work with. he said. Quality people, quality products and quality support make for an extremely magnificent company!