Joint Statistical Meetings Will Bring Thousands to San Diego for the Worlds Largest Annual Gathering of Statisticians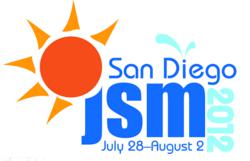 ALEXANDRIA, VA (PRWEB) July 17, 2012
Its the era of Big Data, and the 2012 Joint Statistical Meetings (JSM), the worlds largest annual gathering of statisticians, will embrace the topic as 6,000 statisticians descend on San Diego to shed light on the theme of Statistics: Growing to Serve a Data-Dependent Society. A comprehensive program of talks, roundtables and poster displays will look at the impact of Big Data and will demonstrate the application and contributions of statistics in many fields, including the economy, medicine, the census, climate change, sports and more.
As data proliferate, the work of statisticians becomes more and more critical to all aspects of society, said Ron Wasserstein, ASA executive director. The 2012 Joint Statistical Meetings will provide a forum for the worlds statisticians to discuss the ways in which data direct our focus on the problems of analyzing and utilizing Big Data and how statisticians can contribute to this evolving trend.
Note to editors: Members of the media are invited to participate in any or all of the sessions at JSM. Media registration is required; call Rosanne Desmone at 703.946.3820 or use the form at http://www.amstat.org/meetings/jsm/2012/pressregistrationform.cfm.
Keynote Speakers

Alan Kreuger, Chair of the Presidents Council of Economic Advisors, will give the Presidential address. (This annual presentation features a speaker invited by the ASA President.) Mr. Kreuger will speak on Monday, July 30, at 4 pm, in Ballroom 20AB of the convention center.
ASA President Robert N. Rodriguez will speak on Tuesday, July 31, at 8pm on Building the Big Tent for Statistics.
Jeff Wu, Georgia Tech, will deliver the annual Deming Lecture on Tuesday, July 31, at 4pm on Quality Evolution and Revolution: From Autos and Chips to Nano and Bio
Roderick Little, University of Michigan, gives the COPSS Fisher Lecture on Wednesday, August 2, at 4pm, on "In Praise of Simplicity, Not Mathematistry! Ten Simple, Powerful Ideas for the Statistical Scientist"
For more information on some of the JSM topics, visit the Highlighted Sessions page on the JSM web site at http://www.amstat.org/meetings/jsm/2012/highlightedsessions.cfm. Complete conference information is available at the JSM web site at http://www.amstat.org/meetings/jsm/2012/. The online program (http://www.amstat.org/meetings/jsm/2012/onlineprogram/index.cfm?fuseaction=main) contains information on all JSM sessions and can be searched on keywords, presenters name or affiliation.
Attendees

The JSM participants represent academia, business and industry, as well as federal, state, provincial, and local governments. The majority of participants about 85-90 percent — are from the US; international participants represent every continent but Antarctica. More than 250 presenters and more than 700 attendees are from San Diego and other California locations. California presenters include California Secretary of State Jennie Bretschneider, plus academicians from San Diego State University, and many other California universities.
JSM is open to members of ASA as well as non-members and has special pricing for students, seniors, K-12 teachers, and also offers one-day registrations.
About JSM

JSM, which has been held annually since 1974, is conducted jointly with the American Statistical Association (ASA), the International Biometric Society (ENAR and WNAR), the Institute of Mathematical Statistics (IMS), the Statistical Society of Canada (SSC), the International Chinese Statistical Association, and the International Indian Statistical Association. JSM activities include oral presentations, panel sessions, poster presentations, continuing education courses, exhibit hall (with state-of-the-art statistical products and opportunities), career placement service, society and section business meetings, committee meetings, social activities, and networking opportunities. JSM 2013 will be held in Montreal, Canada, and JSM 2014 will be held in Boston, where ASA had its beginnings in 1839.
About the American Statistical Association

Headquartered in Alexandria, Virginia, the American Statistical Association is the worlds largest community of statisticians and the second oldest continuously operating professional society in the United States. For more than 170 years, the ASA has supported excellence in the development, application, and dissemination of statistical science through meetings, publications, membership services, education, accreditation, and advocacy. Its members serve in industry, government, and academia in more than 90 countries, advancing research and promoting sound statistical practice to inform public policy and improve human welfare. For additional information about the American Statistical Association, please visit the ASA web site at http://www.amstat.org or call 703.684.1221.
####
For more information:

Rosanne Desmone

703.302.1861 (direct)

703.946.3820 (mobile)

rosanne[at]amstat.org
Find More Tech Press Releases