III Level Nirahaara Samyama Initiation By His Holiness Paramahamsa Nithyananda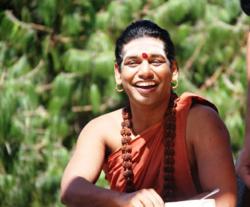 Los Angeles, CA (PRWEB) July 08, 2012
Jul 4th 2012, Kodaikanal Resort, India: His Holiness Paramahamsa Nithyananda during the early morning daily discourse to his world wide followers, initiated more than 140 followers into the III level Nirahaara Samyama. In this third level the participants will not intake any solid foods for 11 days. They will carry on with their lifestyle with just water and light juices.
Paramahamsa Nithyananda, repeated the same instructions as the level I and II samyama by saying, Nirahaara samyama cannot be achieved by fasting or starving or depriving the body of energy through will power. It is completely different. It is awakening our bodys capability to produce food and energy from sun rays, prana and ether. We have this natural intelligence to create food directly from sun rays and ether. Only by awakening of this bio-memory it is possible to achieve nirahaara samyama. If bio-memory is awakened, we don't need will, just like that we will feel highly energetic feeling excited for no reason. If anyone gets the feeling to eat they should eat and discontinue the nirahaara samyama.
Answering questions from participants of the 21 Day Inner Awakening Spiritual Retreat, Paramahamsa Nithyananda said, On one side I am worshipped by millions and followed by millions. On the other side a group of unconscious hysteric Indian media is projecting their opinions and trying to control my spiritual mission.
Rich fellows can think of controlling those who have greed for money. Political people can control people who have greed for that power. A leader can control followers who have greed for that position. People with knowledge can control people who are greedy of knowledge. People who are interested and greedy of name and fame are the only ones who can be controlled by others, not a Enlightened Being established in super conscious state.
There has not been any other enlightened Master who was worshipped (daily pratyaksha pada puja)by thousands, followed by millions worldwide and at the same time so much of villainy projected by false propaganda. It is the size of the stone that decides the amount of the ripples in the water. This means, these are precursors for huge spiritual possibility on planet earth.
More information on Paramahamsas revelations on Kundalini Awakening and the scientific research can be found at http://innerawakening.org/researchonkundaliniawakening
Contact:The Life Bliss Foundation

1- 909 – 625 -1400 / info(at)lifebliss(dot)org
ABOUT HIS HOLINESS PARAMAHAMSA NITHYANANDA:

Videos on Enlightenment Science:

http://www.youtube.com/watch?v=ty1DtDKt-08&feature=plcp

Inner Awakening videos

http://www.youtube.com/playlist?list=PLD5E80C03E360B2F8&feature=plpp
Paramahamsa Nithyananda is not only one of the most watched Spiritual Guru on YouTube, he is ranked as one of the worlds 100 most spiritually influential personalities. He has recently inherited the worlds oldest and most ancient Hindu Spiritual Organization the Madurai Aadheenam, by being coronated as the 293rd pontiff of Madurai Aadheenam.

Paramahamsa Nithyananda is a global leader in yoga, meditation, kundalini awakening enlightenment science. Clear, dynamic and modern in approach, Nithyanandas teachings have already transformed 15 million followers in 150 countries with the fastest growing spiritual community around the youngest incarnation.

Paramahamsa Nithyananda remains always grateful to the spiritual masters and the rich spiritual heritage of India which made it possible for him to learn and practice these timeless spiritual truths. Wishing to share his spiritual understanding with others and dedicate his life to the service of humanity, he entered into the public life and set up his spiritual organization, to reveal to the world, the science and benefits of our ancient mystical yogic tradition and disciplines.

Paramahamsa Nithyananda has made an indelible mark on the international spiritual scene, attracting educated and committed followers with his engaging way of demystifying the Vedic truths and re-interpreting them in the light of modern living. His down to earth approach to spirituality and his image of a tech-friendly guru, who illustrates the truths of Vedanta using a laptop, and uses modern analogies to instill Vedic values has found him admirers amongst the educated youngsters and their parents alike.
More Tech Press Releases