Iddin Integrates Random Chatrooms for Meeting Chatters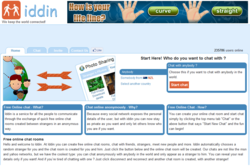 Boston, MA (PRWEB) August 23, 2012
Online chat is one of several ways to meet new friends through the internet. Online chatters can now enjoy a new technique of continuous chat experience brought by Iddin.com. This web chat is a web-based application and is absolutely free.
When chatters use the chat widget of Iddin.com the system will randomly pick another user who is also using Iddin, and let them have a one-on-one conversation with each other. Iddin had integrated chatrooms, thus increasing the numbers of users available online.
Using Iddin is not a difficult task. Since it is a web based application, users do not need technical skills and can start random chatting with 1 click. And because this application does not need to be downloaded, users are spared from the hassle of updating applications compared to other free chat applications available online. This also saves hardware memory of the users computer which can be used for more relevant applications.
To start using Iddin, the user must choose which nation the stranger comes from. All countries and territories are listed in this web chat application. For a better online search globally, users can go for the Anybody option. Through this, Iddin will zero in to any chatter from all over the world. With such reach in the online community, chatters from all over the world get the chance to learn not just personal interests but national cultures as well. The ability to chat with a stranger from the other side of the world is only one of Iddin's features.
Chats are totally unknown, and users can disconnect whenever they want to, although nothing is stopping them from revealing their personal information if they choose to. Iddin also launched the photo upload feature. Users who chat online with photos are able to engage in lasting and more appealing conversations with strangers.
Iddin development team is dedicated to ensure that users enjoy the services the team has to offer. The team is working to widen the visibility of users and developing the web site to cater to more chatters all over the world. Given the increased number of users availing Iddin random chat, the research team is tirelessly developing the site to hold as many users as possible.
About Iddin

Iddin is a free web application that specializes in generating random chat with people from different parts of the world. Users can choose the locations of the strangers, or they can have the engine to search the whole world. Random chat is encouraged to preserve the privacy of people and also to empower spontaneous connection that is fun and interesting. With 1 click on Iddin you can chat with strangers. The ability to chat with a stranger instantly makes Iddin a popular random chat web destination. Users also have the ability to upload photos while random chatting.
Find More Computer Press Releases