GraphicDesign.com Examines Following-Up After an Interview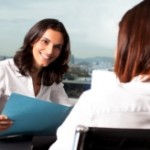 Dallas, TX (PRWEB) July 04, 2012
Following up after any kind of interview can often be as important as the interview itself. And no, we're not exaggerating. Graphic designers are faced with a tough hill to comb after an interview with a creative director or client. They need to know how often and in what way to follow up.
This week, GraphicDesign.com contributor Tim Donelly of VitaminT discusses, "Following Up After an Interview: A Good Thing or a Stalking Thing?" Besides having a crafty title, the article focuses on the following conundrum: "Is following up after an interview an archaic practice to be tossed out (like leeching) or is it still considered good manners?"
Donelly believes that interviewees should send a follow up after every meeting. However, these shouldn't just be terse notes. Instead, Donelly agrees with recruiter Tiffany Jennings: "Much like each resume you send for a position, your thank you note should show that you listened to your interviewers, reinforce your interest in the job, and share what you feel you can bring to the team… not sound like you're tapping your foot, still waiting."
It's also important to give an interviewer space. To that end, Donelly advises adhering to the time frame a recruiter or client gave. If a client asked the candidate to wait a week before calling, then the candidate should comply. "You can send the thank you right after the interview, but wait until that week passes before you reach out," Donelly recommends.
The second time interviewees reach out, they can feel free to provide any updates on their candidacy. Donelly told GraphicDesign.com readers, "With the second round of follow ups, you want to be brief, to the point, and have a positive attitude."
Finally, proofreading is key, especially when contacting potential employers. The article warns, "Absolutely, definitely, and positively proofread every e-mail or note twice before sending. Poor spelling and bad grammar always send the wrong message, especially when someone is looking to hire you and let you touch their own communications."
Misspelling and misspeaking can put even a talented graphic designer out of a gig. In a competitive job market where funds are scarce, one slip-up could prove fatal. At the end of the article, GraphicDesign.com readers are asked two questions:
Should you follow up with a thank you e-mail or letter after an interview?

If you dont hear back from a company, how many times should you try reaching out before giving up?
GraphicDesign.com constantly seeks to engage its readership and so offers weekly polls in order to gauge the pulse of the graphic design community. Visit GraphicDesign.com to weigh in today. You can find the poll article here.
ABOUT GRAPHICDESIGN.COM
GraphicDesign.com is a product of Terran Marketing and a leading source of news and information devoted entirely to the graphic design industry. Employers, students, and freelancers come to GraphicDesign.com to read and discuss current news, information, and events in the graphic design industry.
CONTACT:
Julia Wild

Terran Marketing

892 East Steger Town Road, Suite #206

Rockwall, TX 75032

Phone: (540) 908-2195

E-Mail: julia(at)graphicdesign(dot)com