Grainger Mobile App Provides Instant Access to 900,000 Products on Smart Phones and Streamlines Order Management for Facility Maintenance Pros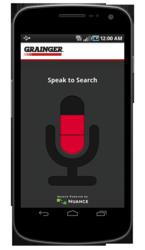 Chicago, IL (PRWEB) August 21, 2012
Grainger, North Americas leading broad line distributor of products that businesses and institutions need to keep their facilities running, introduces its new, free mobile app for iPhone and Android smart phones. The app provides instant access to Graingers 900,000 products making it even easier for maintenance, repair and operations professionals to search for products, see account pricing, check product availability and quickly order products anywhere.
Grainger serves more than two million customers who include facility maintenance, plant, procurement and safety managers as well as contractors such as plumbers and electricians. Many of these professionals do not have easy access to desktop computers when they are on the go but still need to make purchasing decisions quickly.
We find that many people work away from their desks. By allowing these customers access to Graingers products anytime and anywhere, Graingers mobile technology helps them work more efficiently, said Geoffrey Robertson, Grainger Vice President of eCommerce Strategy and Planning. We are moving beyond the standard trend of using mobile for information-gathering and leveraging it to help companies manage their workflow.
The new Grainger app provides a convenient and personalized experience with easy access to information on Grainger products. Through the new mobile app, Grainger customers can: