Going the Way of the Dinosaur: Web Content Filters Evolving into a Packaged Solution, Losing Independence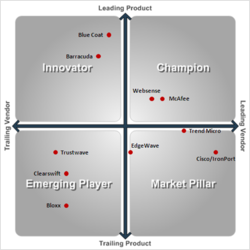 London, ON (PRWEB) July 30, 2012
An amalgamated future awaits the WCF market as organizational consolidation and independent irrelevancy are going to lead to WCF being offered in combination with other security tools, according to Info-Tech Research Group. A Web Content Filtering Vendor Landscape report, published by Info-Tech Research Group, ranked McAfee and Websense as Champions in a market that may not exist on its own for much longer.
Consolidation is still the name of the game in the WCF market as evidenced by the recent acquisition of M86 by Trustwave,said James Quin, Research Director for Info-Tech Research Group. The market spaces future will see it losing relevance as an individual security product offering. Soon WCF will primarily be offered in combination with other security tools, much like DLP.
McAfee continues to be a leader in the security space, ranking as a Champion with its WCF integrating into its broader security portfolio via ePO to form one seamless security platform. McAfee backs its robust WCF solution with vendor stability and support strength.
Champion vendor Websense has an impressive WCF solution and the product has evolved into an integrated solution that can feature DLP, WCF and Email Filtering under the Triton banner.

Blue Coats ProxySG solution earned the Trend Setter award with its impressive set of advanced features. Landing as an Innovator in the report, Blue Coat has been in the Web security space for 16 years.
The Best Overall Value was awarded to Barracuda for having the most bang for your buck. Ranking as an Innovator, Barracuda has the lowest price of the vendors evaluated in this space, making it ideal for enterprises that are concerned about cost, but are still looking for a solid product with most of the looked for features.
For the full list of Info-Tech Research Groups recommendations for selecting a Web Content Filter Vendor, visit: http://www.infotech.com/research/ss/it-vendor-landscape-web-content-filters

Info-Tech Research Group Vendor Landscape reports recognize outstanding vendors in the technology marketplace. Assessing vendors by the strength of their offering and their strategy for the enterprise, Info-Tech Research Group Vendor Landscapes pay tribute to the contribution of exceptional vendors in a particular category.
About Info-Tech Research Group

With a paid membership of over 25,000 members worldwide, Info-Tech Research Group (http://www.infotech.com) is the global leader in providing tactical, practical Information Technology research and analysis. Info-Tech Research Group has a fourteen-year history of delivering quality research and is North America's fastest growing full-service IT analyst firm.