Go Back To School With Cool Musical Essentials From Yamaha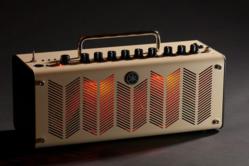 Buena Park, CA (PRWEB) August 14, 2012
Unleash your inner virtuoso with the Yamaha EZ 220 Keyboard (MSRP: $ 229). Ultra groovy lighted keys, built-in wireless connectivity to the Page Turner iPad app and 100 preset songs with digital score make the EZ-220 the perfect learn-to-play keyboard for those college crooners looking to make a big impression. The instrument also features a USB TO HOST port that allows connectivity to your computer so you can dabble with a wide range of music programs for endless hours of learning and fun. Learn more at http://4wrd.it/EZ-220.
Yamaha's PDX-11 (MSRP: $ 129.95) portable player dock delivers amazing sound quality anywhere and everywhere. Available in four eye-catching colorswhite, dark blue, green and blackthe battery or AC powered, the PDX-11 features a striking and rugged-looking octagonal shape with a perforated steel grill designed for overall toughness. A sturdy grab and go roll bar chrome handle makes it easy to take the PDX-11 anywhere you want to enjoy your favorite tunesfrom the home or dorm room, to a party on the beach, the back yard or game-day tailgating. The iPod/iPhone dock is perched on the top of the unit, and music is played back via an exceptionally powerful 4-inch woofer that drives extremely accurate, kicking bass and stunning midrange. A separate tweeter provides crystal clear high frequencies. The PDX-11 also can be connected to a PC, Mac or other digital audio player via a mini jack (3.5mm) on the back of the dock. Learn more here http://4wrd.it/PDX11BTS.
The award-winning Yamaha THR10 (MSRP: $ 460) and THR5 (MSRP: $ 330) just may be the best-looking music player/guitar amps ever made. Though small, they sound huge and serve as great recording interfaces. Smaller amps are usually just miniature versions of black vinyl-covered boxes, but the THR is designed for the dorm room or small apartment. Both models draw on Yamaha's innovative consumer electronics and professional audio pedigree to deliver powerful sound in a tasteful, attractive package. Plug in a smartphone for full-sounding playback. This battery powered, portable and lightweight amp offers easy computer connectivity for pro-quality recording on the desktop. Learn more at http://4wrd.it/THRPAGE.
The Yamaha GL-1 Guitalele (MSRP: $ 141) is the perfect option for on-the-go students looking to add a new sound to their fleet of instruments. This miniature nylon guitar looks and sounds like a ukulele, but features six strings that are tuned like a standard guitar up to an A (A/D/G/C/E/A). Chord fingering is the same for any standard-tuned guitar, but now guitarists can easily join the ukulele craze with a portable, playable and thoroughly unique instrument. Learn more at http://4wrd.it/GL-1BTS.
Yamahas newly updated NoteStar app for iPad is designed to give all piano and keyboard players the experience of playing with a real band. Perfect for beginners or more advanced players, the media-rich digital sheet music program motivates keyboard players by providing a dynamic, fun performance experience. Called well-designed and versatile by The New York Times, the app now features a convenient vocal muting option, which enables the performer (or performers) to sing along Karaoke style. Since its release, NoteStar has been consistently adding 20 new song titles per month, enough to keep any student busy learning and improving on the latest songs after school. Here's a video on how NoteStar works: http://4wrd.it/NOTESTARVIDEO.
For more information about Yamaha products, write Yamaha Corporation of America, P.O. Box 6600, Buena Park, CA 90622-6600; call (714) 522-9011; email infostation(at)yamaha(dot)com; or visit http://4wrd.it/YAMAHAUSA.
iPhone and iPad are registered trademarks of Apple Inc. App Store is a service mark of Apple Inc.
About Yamaha
Yamaha Corporation of America (YCA) is one of the largest subsidiaries of Yamaha Corporation, Japan and offers a full line of award-winning musical instruments, sound reinforcement and home entertainment products to the U.S. market. Products include: Yamaha acoustic, digital and hybrid pianos, portable keyboards, guitars, acoustic and electronic drums, band and orchestral instruments, marching percussion products, synthesizers, professional digital and analog audio equipment, Steinberg recording products and Nexo commercial audio products, as well as AV receivers, amplifiers, Blu-ray/CD players, iPod docking systems, home-theater-in-a-box systems and its exclusive line of Digital Sound Projectors. YCA markets innovative, finely crafted technology and entertainment products and musical instruments targeted to the hobbyist, education, worship, professional music, installation and consumer markets.