GBike Launches 1st Ever All-Electric Food Delivery Vehicle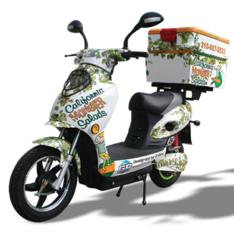 Los Angeles, CA (PRWEB) June 20, 2012
GBike Electric Bikes and Commercial Vehicles announced today the launch of the 1st ever all-electric food delivery vehicle designed specifically for use in high-traffic, densely populated cities where parking is scarce and traffic jams are common.
"This vehicle will revolutionize the way food deliveries are made in major metropolitan cities across the country," said Travis Morphew, GBike's CEO. "These vehicles cut a restaurant's delivery cost in half, saving the average restaurant around $ 25,000 per year, while at the same time allowing them to make deliveries twice as fast when compared to using a car."
GBike Electric Bikes, based in Los Angeles, manufactures electric bikes and scooters designed for specifically for food delivery in congested areas that are 100% street legal, with no license, insurance, or registration required. The GBIKE City Commercial, which looks more like a scooter than a bicycle, is manufactured with functional pedals, which allows it to be legally classified as a bicycle, instead of a scooter or moped. Thus, no license, insurance, or registration is required to operate it legally on all public streets except highways. The vehicle has a range of 30-35 miles per charge, and costs only 12 cents to fully charge the battery. Batteries typically last for 2-3 years under heavy use, and cost $ 299 to replace. There's even a non-commercial version which is suitable for consumers looking for a low-cost, short-distance commuter vehicle. With very few moving parts to break, no gas to buy, no registration or insurance cost, and the ability to park virtually anywhere, these vehicles can be operated for literally pennies a day.
Each bike comes with a large customized rack and food container that is suitable for carrying pizza, sandwiches, salads, chinese food, or any type of 'to go' food container. Drink racks can be installed within the container as well, and are separated by different compartments to ensure that food and drinks are transported safety to their final destinations. For pizza restaurants, a specially made 'pizza box' is used, allowing safe transport of up to 8 large pizzas with room to spare for drinks and salads.
Also included in the price of each vehicle is a custom-made vinyl wrap, which effectively turns the vehicle into a rolling billboard. GBike's in-house graphic design team will work with the restaurant owner to create a customized wrap, where every surface of the vehicle can be turned into advertising space, showcasing the restaurant's logo, name, products, and contact information. This gives the owner the ability to create thousands of impressions on consumers daily while making routine deliveries.
"This is really a game changer for the mom and pop restaurant owner because not only does it save them time and money, it allows them to advertise on a pretty grand scale, as well as being tax deductible as a business expense," Morphew said. "And since it seems that being green these days is not only socially responsible, it also socially desirable, we feel this product is coming to market at precisely the right time."
GBike Electric Bikes is an electric transportation company established in September 2009 that focuses on providing high-quality, elegantly-designed, electric bicycles and scooters to the short distance commuter looking for a fun, economical, and green solution to short distance travel. The all-electric bicycles and scooters can be ridden anywhere you can ride a bike, require no license, insurance, or registration to operate and come in a variety of different colors.
Restaurant owners or regular consumers interested in GBike Electric Bikes, can visit their website at http://www.shopbike.com or for more information they can contact their flagship store in Santa Monica at 424-294-2453.
Related Graphic Press Releases