Fishing Clothing Company Fights Skin Cancer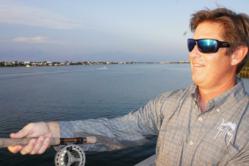 (PRWEB) July 24, 2012
As the heat of summer intensifies, a fishing tackle company has introduced an innovative clothing line to help sportsman reduce their risk of skin cancer. These performance fishing shirts help anglers and boaters protect themselves from the damaging UV rays. According to the American Academy of Dermatology and the American Cancer Society, melanoma and other skin cancers are on the rise, with between one and two million diagnosed cases per year. Now the American Fishing and Tackle Company, AFTCO, makers of Guy Harvey signature shirts and apparel, offers anglers and others a solution.
As fishermen, its impossible to avoid exposure to the sun, said AFTCO president Bill Shedd.
And sunscreens can wash off, leaving our skin unprotected. We were determined to make something that was comfortable for fishing but provided maximum protection.
While typical shirts may have a UV rating around 10, AFTCOs state-of-the-art, long-sleeve fishing shirts have an SPF of 30+. They also have special buffs, sometimes called gators, that cover the neck and lower face, also with the same 30+ SPF rating. Its not enough to wear a ball cap and a t-shirt anymore, Shedd said. Especially as we get older. Its about using technology to wear the right kind of materials. According to the National Cancer Institute, the majority of people diagnosed with melanoma are white men over the age of 50 also a strong demographic in fishing.
AFTCO has not only come out with high-tech, sun-resistant material, but theyve also designed their fishing clothing line with art from hall-of-fame fisherman and artist, Dr. Guy Harvey.
The most important thing is safety, Shedd said. But why not look good too? Guys vivid art depicts classic fishing scenes and marine specie, so its a perfect fit for our line of protective clothing.
In addition to their commitment to creating protective clothing, AFTCO is also focused on protecting the marine environment. A portion of every clothing items sold is donated to support the Guy Harvey Ocean Foundation. In 2011, the GHOF funded more than a million dollars in research and education related to the marine environment.
"Fishermen are some of the greatest stewards of the oceans," Shedd said. "We're proud to be able to fund the great work done by the Guy Harvey Ocean Foundation."
For all boaters, fishermen and water enthusiasts, Guy Harvey Sportswear is a perfect trifecta. It looks good, it protects from the sun's harmful rays and it supports marine conservation.
AFTCOs Guy Harvey apparel is available at more than 1,500 retail stores such as West Marine, Bass Pro Shops, Hibbetts Sporting Goods, Academy Sports and Bealls Department Stores.
To learn more about Guy Harvey's line of UV protection gear visit Guy Harvey Magazine
More Tech Press Releases