Facebook Graphic Design Challenge Hosted by California Design School FIDM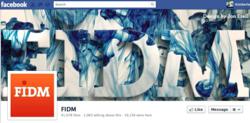 Los Angeles, CA (PRWEB) June 14, 2012
Open to anyone with a passion for art and design, FIDMs Facebook Graphic Design Challenge asked designers to create an image that incorporated the official FIDM logo along with original illustrations, photographs, and/or graphics. It was a huge success, and we received great entries from future FIDM students, current students, and the general public, said Larry Del Santo, Social Media Marketing Manager at FIDM.
The finalists, Jon E., Angelica V., and Marianna H., customized the FIDM logo using eye-catching patterns, typography, and graphics. The public was then asked to vote for their favorite design for the duration of a week on Facebook via a poll application. After more than 500 votes, Jons design was chosen as the winner and is currently featured as the official FIDM Facebook Cover image. The challenge was a partnership with FIDMs Digital Media Department.
The winners design is now up and featured as our cover photo for the month of June, added Del Santo. Jon Ezell, who is a current FIDM Graphic Design student at the Orange County campus, is also the co-founder and lead designer of the new apparel line, Adamo Collection. His blue and white creation mimics the look of dye swirling in water.
FIDM/Fashion Institute of Design & Merchandising is a co-educational, specialized, private college dedicated to educating students for the Fashion, Graphics, Interior Design, and Entertainment industries. Known as a one of the top fashion design schools, FIDM is also a leading graphic design school and digital media college. Visit fidm.edu for more information.