Connectivity, Telematics and Infotainment Components Shape the Latest Function and Design Components of the Modern Automobile Interior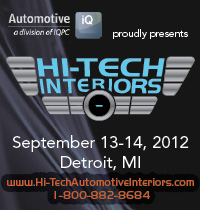 Detroit, MI (PRWEB) August 01, 2012
Automotive IQ, a division of IQPC, announces the Hi-Tech Automotive Interiors Summit, taking place September 13 to 14, 2012 in Detroit, Michigan. The Summit focuses on strategies for improving the connectivity, telematics and infotainment components that are shaping the functional and design components of modern automobile interiors.
Revenues for the North American automotive interior systems and modules market totaled $ 28.30 billion in 2004 and exceeded $ 44 billion in 2011. Connected interior systems and modules have become the focus of innovation and differentiation in vehicles, and automakers have had to emphasize value addition through cutting edge styling, ergonomic design, convenience, and the use of recyclable materials.
Fast developing interfaces including touch screen, voice, and gesture are also beginning to make their way into a broader segment of automobiles in the US market. As a result of consumer demand, instrument panel skin technologies, and efforts toward mass reduction, automakers are under pressure to offer customized features and differentiate vehicles not only from their competitors', but also from other vehicles in their own lines.
The Hi-Tech Automotive Interiors Summit addresses major advancements in vehicle interiors including telematics and mobile integration, as well as integration of federal regulations for the distracted driver. Leaders in the infotainment and human-machine interface (HMI) fields are speaking on dynamic strategies for advancing vehicle infotainment systems while maintaining quality and safety. Other highlights include:


Insights on where the infotainment space is heading and what new technologies to prepare for.
In-depth presentations of new telematics technology and the future of mobile to vehicle integration.
Strategies from leading organizations on the impact of the distracted driver and safety regulations affecting the infotainment space.
The 2012 Hi-Tech Automotive Interiors Summit provides automobile manufacturers and suppliers key insights into developing technology and regulations in infotainment, telematics, and HMI. Internal strategies from key industry leaders provide attendees techniques they can implement in their interior systems design.
For more information on the Hi-Tech Automotive Interiors Summit, please visit http://www.hi-techautomotiveinteriors.com or contact Program Director Matt Barber at Matt.Barber(at)iqpc(dot)com.
About IQPC

IQPC http://www.iqpc.com provides business executives with tailored practical conferences, large-scale events, topical seminars and in-house training programs. Producing over 1,500 events annually around the world, IQPC continues to grow and has offices in cities across six continents including: Berlin, Dubai, London, New York, Sao Paulo, Singapore, Sydney, and Toronto.
Contact:

IQPC

Reem Shamsuddoha

T: +1 646-200-7924

F: +1 888-231-7864

http://www.iqpc.com