CollegeComplete.com, a Free Education Matching Service, Once Again in Growth Mode as Their NASCAR Team Drives Awareness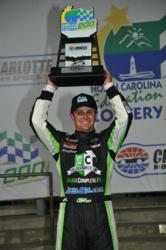 Deerfield Beach, FL (PRWEB) June 18, 2012
While the news is filled with commentaries about the economy going down, not growing fast enough or going overseas, CollegeComplete.com has continued its growth and plans to add 20% more staff this month. A special focus has been placed with hiring returning veterans and military personnel.
College Complete opened its office doors in Deerfield Beach, Florida in September 2010. In the year and a half since then, they have grown from 15 people to nearly 40 Education Advocates. Every Advocate goes through an internal training process to learn about the high standards that College Complete holds itself to, as well as about the schools and systems that are in place to ensure the each and every student is given the most accurate choices available.
By the time that training is complete, each Advocate is able to guide potential students through the process of identifying schools that fit their geographical and educational needs. This matching process is done at no cost to the student and is followed up with an email of recommended questions to ask once the student speaks with the individual school.
With such rapid hiring in its Florida Headquarters, CollegeComplete.com has turned to NASCAR driver Justin Lofton to help get the word out to the public about the benefits of continuing education as well as about openings at College Complete.
Daniel Haim, CEO of College Complete said, We are extremely grateful to be able to have experienced the rapid growth that we have so far. I cannot thank the community, NASCAR fans and the students that we help enough to express how humbled we are.
The next group of employees will begin work at the end of June and executives at College Complete are already planning for additional hires this year with a goal of bringing their 2 year growth to 400% by the end of the year.
About College Complete
Partnered with hundreds of educational institutions and across all types of education goals, including traditional college degrees, trade and vocational certifications, and professional licensure, College Complete helps students assess all of the information that exists in the public domain, allowing them to understand and make sense of their educational opportunities. Their services are free and available to anyone. Whether you are interested in Art and Design, Business, Computers and Technology, Criminal Justice, Education, Healthcare and Medical, Science and Engineering, and much, much more; if youre an Electrician, a Nurse, an Automotive Mechanic, a Teacher, a Police Officer, or youre simply interested in learning Computer Programming, Networking, Web Development, or Graphic Design College Complete is available for you at no cost. You can reach them by filling out a form on their site or calling to speak with your personal Education Advocate at 877-543-2655. College Complete has an initiative to assist those in the US Armed Forces and their families and is able to assist in identifying schools that will not only provide the educational requirements of the soldier, veteran or family member but will do so in a cost effective manner.