Cognosys Technologies Launches Latest version of Hospital Management Information Suite "CogHMS" Certified by Microsoft Azure & HP Convergence Infrastructure Cloud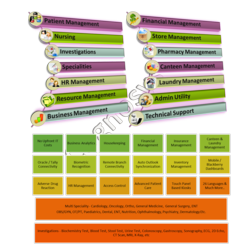 Pune, India (PRWEB) August 03, 2012
Cognosys today announced the launch of the latest BI version of its Hospital Management Premier Suite, CogHMS, certified for Microsoft Azure and HP Convergence Infrastructure Cloud offering hospital chains and wellness center customers, innovative user interface features and reliability improvements.
Developed by the IBM Certified Healthcare Software Sales Professionals team from Cognosys, this is specially designed to cater to the needs of all types of heath care units ranging from small clinics to multicenter / multi branch hospital chains, government hospitals in remote areas, blood banks and multi-specialty diagnostic centers. This new version of the HIMS can be used from just a browser and offers access not only from tablets and self-service kiosks but with inbuilt biometric recognition and EMR (Electronic Medical Records) facility is the first healthcare software solution offering such in-depth insight into each and every part of a hospital management right from the in-house pharmacy to Canteen, Laundry, blood bank, third party insurance providers, connectivity to in-house CRM and financial accounting.
Focusing on business centric systems and modular approach and using Azure multi-tenancy and high availability, CogHMS delivers Cloud technologies to healthcare industry as a Ready To Use SAAS solution where obtaining a hospital management solution is as simple as registering and going live in five minutes. CogHMS cuts IT costs drastically and eliminates high maintenance costs providing an Access Anywhere System.
CogHMS is a completely modular Hospital management Software where the cost can be controlled depending upon activating the modules which are relevant to the customer for example business intelligence integration, Outlook synchronization, blood bank management, Tally or Oracle financial integration etc. Based on in-depth market research on hospital operations CogHMS includes all the specialty modules which no other hospital management solution in the world offers. The cloud solution can be merged as a hybrid offering with on-premises databases. CogHMS is certified by Microsoft Azure and HP CI and is only HMS solution in world to be prepared by IBM