CBT Nuggets Introduces Free Training series on Windows 8 and Server 2012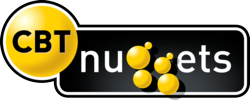 Eugene, OR (PRWEB) August 02, 2012
CBT Nuggets is pleased to announce two new IT training series: Microsoft Windows 8: First Look and Microsoft Server 2012: First Look. Both series are available for free.
In the Windows 8 series, viewers can get an early look at the features, enhancements and changes in Microsofts latest operating system. Renowned trainer and MVP Don Jones gives a whirlwind tour of whats new and different, including the new Metro user interface and desktop, full-immersion Internet Explorer, Windows To Go, and touch features.
In Microsoft Server 2012: First Look," Jones covers features like the new Server Manager, PowerShell 3, Windows Remote Management, Dynamic Access Control, IIS 8., and more.
Both series are available on the CBT Nuggets YouTube channel for free. Current CBT Nuggets customers can also stream the Microsoft Server 2012 First Look series in the CBT Nuggets video player at the CBT Nuggets website.
"Windows 8 and Server 2012 are highly anticipated products, and people are already looking for training," said Dan Charbonneau, CEO of CBT Nuggets. "These 'First Look' series are excellent introductory overviews for anyone who can't wait to see what these products are all about."
The First Look series are just the start of training CBT Nuggets is creating for Windows 8 and Server 2012. The CBT Nuggets stable of outstanding Microsoft trainers James Conrad, Timothy Warner, Greg Shields, and Jones are currently creating training series for all of the upcoming Microsoft exams.
About CBT Nuggets: CBT Nuggets is a computer-based technology company specializing in cutting-edge online IT certification training. Founded in 1999 by current CEO Dan Charbonneau, and headquartered in Eugene, Oregon, CBT Nuggets provides quick, easy and affordable learning by renowned instructors for individuals, small teams and large organizations.
Media contact: Rachel Beck, rbeck(at)cbtnuggets(dot)com, 541-743-8083
Find More Computer Press Releases